Fall in NEPA is one of my favorite times of year. For outdoor enthusiasts, there is nothing more refreshing than activities in the bright sunshine and crisp, clean air. The hot humid summer weather can be a deterrent to outdoor activities and this time of year provides an opportunity to get fit by beginning a walking program. For many who have not maintained an active lifestyle or have health issues, it is challenging to know where to begin. Moreover, beginning without a good plan can lead to injury and leave you discouraged. For example, those overweight and de-conditioned should not start a walking program too aggressively. Walking at a fast pace and long distance without gradually weaning into it will most likely lead to problems.
WALKING FOR HEALTH
There is probably nothing more natural to human beings than walking. Ever since Australopithecus, an early hominin (human ancestor) who evolved in Southern and Eastern Africa between 4 and 2 million years ago, that our ancestors took their first steps as committed bipeds. With free hands, humans advanced in hunting, gathering, making tools etc. while modern man uses walking as, not only a form of locomotion, but also as a form of exercise and fitness. It is natural, easy and free...no equipment or fitness club membership required!
BENEFITS OF WALKING
"There's no question that increasing exercise, even moderately, reduces the risks of many diseases, including coronary heart disease, breast and colon cancer, and Type 2 diabetes," said Dr. Jennifer Joyce, MD, professor of family medicine at GCSOM. "Research has even shown that you could gain two hours of life for each hour that you exercise regularly." According to the American Heart Association, walking as little as 30 minutes a day can provide the following benefits:
Improve blood pressure and blood sugar levels
Help maintain a healthy body weight and lower the risk of obesity
Enhance mental well-being
Reduce the risk of osteoporosis
Improve muscle and joint health
Improve circulation
Improve sleep
PLAN AHEAD
Gear Up – but don't go overboard. Good running shoes with proper arch support and shock absorption are also recommended for walking. Wear weather appropriate dry tech clothing with bright, reflective visible colors. Bring a cell phone in case of emergency…but try not to use it to talk or text because it will ruin the vibe!
Select the Best Path – begin on level surfaces like a "rails to trails." In inclement weather consider walking in a shopping mall.
Warm up. Walk slowly for five to 10 minutes to warm up your muscles and prepare your body for exercise.
Cool down. At the end of your walk, walk slowly for five to 10 minutes to help your muscles cool down.
Stretch. After you cool down, gently stretch your muscles. If you want to stretch before you walk, remember to warm up first.
Trekking Poles. Consider using trekking poles, especially if you have a balance issue or lower back, hip, knee or ankle/foot problems.
Hydrate. If you build up to more than 45 to 60 minutes or if the temperatures soar, bring a water bottle and be sure to hydrate.
SET REALISTIC GOALS
Anything is better than nothing! However, for most healthy adults, the Department of Health and Human Services recommends at least 150 minutes of moderate aerobic activity or 75 minutes of vigorous aerobic activity, or an equivalent combination of moderate and vigorous aerobic activity. The guidelines suggest that you spread out this exercise during the course of a week. Also aim to do strength training exercises of all major muscle groups at least two times a week.
As a general goal, aim for at least 30 minutes of physical activity a day. If you can't set aside that much time, try several short sessions of activity throughout the day (3 ten or 2 fifteen minute sessions). Even small amounts of physical activity are helpful, and accumulated activity throughout the day adds up to provide health benefit.
Remember it's OK to start slowly — especially if you haven't been exercising regularly. You might start with five minutes a day the first week, and then increase your time by five minutes each week until you reach at least 30 minutes.
For even more health benefits, aim for at least 60 minutes of physical activity most days of the week. Once you are ready for a challenge, add hills, increase speed and distance.
TRACK YOUR PROGRESS
Keeping a record of how many steps you take, the distance you walk and how long it takes can help you see where you started from and serve as a source of inspiration. Record these numbers in a walking journal or log them in a spreadsheet or a physical activity app. Another option is to use an electronic device such as a smart watch, pedometer or fitness tracker to calculate steps and distance.
MARK YOUR CALENDAR
Make walking part of your daily routine. Pick a time that works best for you. Some prefer early morning, others lunchtime or after work. Enter it in your smart phone with a reminder and get to it!
FIND A WALKING PARTNER
Studies show that compliance with an exercise program is significantly improved when an exercise buddy is part of the equation. It is hard to let someone down or break plans when you commit to someone. Keep in mind that your exercise buddy can also include your dog!
USE EFFICIENT WALKING TECHNIQUE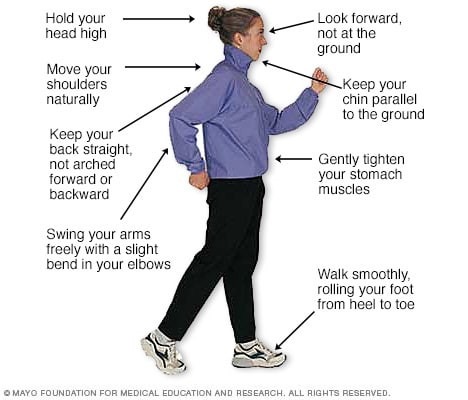 Like everything, there is a right way of doing something, even walking. For efficiency and safety, walking with proper stride is important. A fitness stride requires good posture and purposeful movements. Ideally, here's how you'll look when you're walking:
Head up, look forward – glance at the ground but don't stare down.
Relax your neck, shoulders and back – avoid a rigid upright posture.
Swing your arms freely with a slight bend in your elbows.
Keep your stomach muscles slightly tightened (work the core) with a straight back.
Walking smoothly - rolling your foot from heel to toe.
Visit your doctor regularly and listen to your body.
Sources : Sapiens.org; WebMD; Mayo Clinic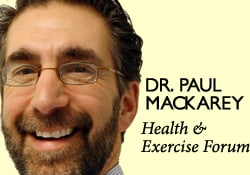 NEXT MONDAY BLOG and in print in THE SUNDAY TIMES TRIBUNE – Read Dr. Paul J. Mackarey "Health & Exercise Forum!"
This article is not intended as a substitute for medical treatment. If you have questions related to your medical condition, please contact your family physician. For further inquires related to this topic email: drpmackarey@msn.com
Paul J. Mackarey PT, DHSc, OCS is a Doctor in Health Sciences specializing in orthopaedic and sports physical therapy. Dr. Mackarey is in private practice and is an associate professor of clinical medicine at Geisinger Commonwealth School of Medicine. For all of Dr. Paul Mackarey's articles, check out our exercise forum!