October is National Breast Cancer Awareness Month. Due in great part to improved awareness and advances in treatment and early diagnosis, the survival rate continues to improve. The American Cancer Society relies on information from the Surveillance, Epidemiology and End Results (SEER) database to provide survival statistics for different forms of cancer.
While the overall 5-year survival rate for breast cancer is 90% and the 10-year survival rate is 84%, the survival rate for those fortunate to have early detection and treatment is even more encouraging. For example, when breast cancer is determined to be "localized" (no sign that the cancer has spread outside of the breast), the 5-year survival rate improves to 99%! AWARENESS AND EARLY DETECTION ARE CRITICAL!
BREAST CANCER PREVENTION TIPS
Maintain Healthy Body Mass Index (BMI) – studies repeatedly show that obesity increases the risk of breast cancer. A healthy BMI for women falls between 18.5 and 24.9. To find out your BMI visit: www.calculator.net
Maintain a Healthy Diet – the Mediterranean Diet emphasizes plant-based foods such as vegetables, beans, whole grain, fruits, nuts and seeds, and plant-based oils, especially olive oil. Avoid sugared drinks, refined carbs and fatty foods and eat fish or chicken instead of red meat.
Limit Alcohol Consumption – While no alcohol consumption may be optimal, up to one drink a day for women is acceptable.
Avoid or Limit Hormone Replacement Therapy – Studies show that menopausal hormone therapy increases the risk of breast cancer. For those who must take hormones to manage menopausal symptoms, limit the time period to less than three years and avoid progesterone.
Consider Estrogen-Blocking Drugs – For women with a family history of breast cancer or those over 60, consulting your physician about the pros and cons of these drugs.
Do Not Smoke – Studies show that smoking increases the risk of breast cancer. Visit: smokefree.gov for help with smoking cessation.
Breast Feed – According to the scientific literature, women who breast feed for at least a year in total have less risk of developing breast cancer. So, breast feed as long as possible.
Participate in Research – What can you do to help? Participate in clinical trials studying new and more effective ways to detect and treat breast cancer. Visit the National Cancer Institute
Limit - Manage Stress - According to a recent long-term study, both men and women have a higher incidence of cancer in those who did not manage chronic stress well. Life is full of potential stress and it cannot be avoided. But, you can learn to handle stress better. Exercise, meditation, and counseling are some options to explore. Try Progressive Muscle Relaxation (PMR) videos.
Exercise – A recent study in the Journal of the American Medical Association from Harvard has found that regular exercise can improve the survival of patients with breast cancer.
Benefits of exercise in women with breast cancer:
May increase survival
Lessen risk of endometrial cancer
Improved C-reactive protein levels
Improve autoimmune function
Control Depression
Psycho-Social Value:

builds confidence, fosters control, develops new skills

promotes health, mind, body, & spirit
Current research supports the fact that exercise may not only prevent, but also improve breast cancer survival. The following guidelines are proposed:
Medical Clearance

Talk to your physician to get clearance for exercise

Remember, each patient must be individually evaluated by their physician to determine the extent of their problem and the appropriateness for exercise. Once medically cleared, seek the advice of a physical therapist to assess your needs and specifically design a program for you.
Strength Training

Wear a compression sleeve if you have lymphedema (swelling in the affected arm) during exercise
Source: Hutchinson Cancer Research Center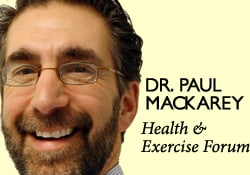 NEXT MONDAY – Read Dr. Paul J. Mackarey "Health & Exercise Forum!"
This article is not intended as a substitute for medical treatment. If you have questions related to your medical condition, please contact your family physician. For further inquires related to this topic email: drpmackarey@msn.com
Paul J. Mackarey PT, DHSc, OCS is a Doctor in Health Sciences specializing in orthopaedic and sports physical therapy. Dr. Mackarey is in private practice and is an associate professor of clinical medicine at GCSOM.
For all of Dr. Mackarey's articles visit our Health and Wellness Page!