While the Christmas spirit is still strongly present and the New Year just days away, I thought it would be appropriate to reprint a column from Christmas 2006. The forward to the column was written by Father Scott Pilarz, President of the University of Scranton who passed away on March 10, 2021 from complications related to amyotrophic lateral sclerosis (ALS) at age 61. As always, he offered sage advice and reflection for a healthy mind, body and spirit…thank you Father Pilarz for your many contributions to our community!
To my loyal readers this holiday…that the spirit of this holy season would be with you for 30 seconds each day for the rest of your life. The love, faith and hope of this season are so powerful that it could transform our lives if we somehow find a way to reflect upon it daily. I believe that it is the foundation for a healthy mind, body and spirit. This is proven in the fact that those of faith live longer and happier lives. All major religions promote physical and spiritual health, wellness and respect for life. In 2006, I asked Rev. Scott R. Pilarz, S.J., President of the University of Scranton to offer some words of reflection on how this holy season relates to a healthy mind, body and spirit:
"On the surface of things, it seems counterintuitive to write a column on health and fitness during the week before Christmas. For many, this can prove to be the unhealthiest time of year. People find themselves too busy to exercise and simultaneously confronted with too many opportunities for eating and drinking. Certainly an abundance of culinary temptation is especially the case on a university campus, where just about every department and division hosts a party. The cold weather can also be a hindrance to outdoor activity. It's too tempting to stay inside and, specifically, on the couch in front of a fire, making resolutions to exercise after the New Year.
This is, however, also the season for renewing our spirits and remembering what's most important in our lives. As a result, we might consider the importance of regular exercise as an ingredient not only to physical health, but to spiritual health, as well. The connection between these aspects of our lives has been stressed by a variety of spiritual traditions over the centuries.
The Jesuit tradition, with which I am most familiar, has long given exercise a place in its schools and educational philosophy. Jesuit schoolmasters knew that they wanted to form "the whole person" and not simply the minds of their students. Since the first plan of studies, or Ratio Studiorum, was published in the sixteenth century, Jesuit educators recognized the importance of encouraging their students to work their bodies as well as their souls and minds. It was understood that exercise promoted balance and concentration needed for study and prayer. The Spiritual Exercises, which are the living legacy of the Jesuit's founder, St. Ignatius Loyola, are rigorous. They depend on divine assistance as well as the focus and strength of a person at prayer. St. Ignatius started his career as a soldier, and he never lost his appreciation for the kind of discipline that exercise fosters.
Early Jesuits also had a healthy appreciation for the value of friendly competition. This long-standing tradition may help explain the success centuries later of Jesuit college athletic teams, including The University of Scranton Royals. It also accounts for the fact that the University still requires students to enroll in physical education courses and is home to a Department of Exercise Science and Sport.
Here's hoping that readers will mine their own spiritual traditions during this sacred season and discover again the way in which exercise can be of benefit to "the whole person." Remember, physical activity is one of the most important factors in improving a lifestyle in a positive way. But, it does not have to be complicated. A minimum of 30 minutes of physical activity, 3-5 days per week will many positive effects on your body.
Some simple suggestions for beginning an exercise program are:
Get your physicians approval
Consult with a physical therapist to set up a program for your needs
AEROBIC EXERCISE:
Buy good running sneakers – not walking shoes
Plan to exercise 3-5 times per week for 30-35 minutes
Walk for aerobic fitness
Begin 5-10 minutes and add 1-2 minutes each session
Walk in a mall if it is too hot or too cold
WEIGHT TRAINING:
Use light dumbbells, sandbag weights and elastic resistance bands 3-5 pounds to start, add 1 pound once 25 reps becomes easy
Begin with 5-10 repetitions and add 1-2 reps each session. Continue until 25 reps becomes easy, then increase weight by 1 pound for 15-20 reps
Alternate weight training days with walking days
Be specific and compliant! Make a serious commitment. Keep a journal or exercise log. Mark a calendar. 30-45 minutes, 3-5 days per week – NO EXCUSES! Get an exercise buddy you can count on and help keep you compliant!
Make it fun! Mix it up. Walk 3 days, swim or bike 1-2 days
BE RELIGIOUS! Be religious about exercise BUT don't get too compulsive!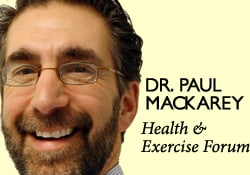 Read Dr. Mackarey's Health & Exercise Forum – Next Monday
This article is not intended as a substitute for medical treatment. If you have questions related to your medical condition, please contact your family physician. For further inquires related to this topic email: drpmackarey@msn.com
Paul J. Mackarey PT, DHSc, OCS is a Doctor  in Health Sciences specializing in orthopaedic and sports physical therapy. Dr. Mackarey is in private practice and is an associate professor of clinical medicine at GCSOM.
For all of Dr. Mackarey's articles visit: mackareyphysicaltherapy.com