Hospice Care - Part 2 of 3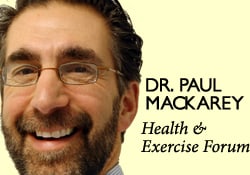 Hospice Care and Health Tips for the Caregiver
Part 2 of 3
Last week's column discussed the role of hospice care in honor of National Hospice Month. It would be very unusual to find a person whose life has not been affected by someone with a terminal illness or has not benefited the invaluable services of a hospice. This week, for those incredibly dedicated people who care for someone in the later stages of life, Part II will offer important tips that may keep you mentally and physically healthy while you do God's work.
NEPA is fortunate to have many wonderful people who are dedicated to God and family …you are our greatest natural resource! Many of you go on to do the very difficult task of giving care to your loved one at home for as long as possible. While this is truly God's work, the caregiver's job is arduous; physically demanding, emotionally stressful, and often thankless. I have had the benefit of observing many wonderful people care for their loved ones: my wife Esther, who cared for her mother at home, when stricken with Alzheimer's Disease and Maureen Paskert, who beautifully cared for her husband Mark, when stricken with MS, 10 years ago, and passed away this September.
Ten Health Tips for the Hospice Caregiver"
Remember...Good is the New Perfect!: You are already doing God's work so don't be too tough on yourself if things are not perfect. The yard, house, etc may not get the attention it did before you became a caregiver…it is OK!
Increase Physical Activity: 30 minutes of moderate aerobic exercise each day is very beneficial for physical and emotional wellness. It improves blood flow, releases endorphins and prevents obesity. Remember, you must first take care of yourself and stay in good physical condition in order to help someone else.
Increase Social Activity: Social activity on a regular basis has been found to reduce the risk of burnout or depression. Join a club, play a sport or game with a group, take classes and keep in touch with friends and family. Remember, you must first take care of yourself and stay in good mental and emotional condition in order to help someone else.
Reduce Stress …Don't be Afraid to Say No!: You can't do it all, so concentrate on the things that you want to do. The cookies for the church bake sale, homemade birthday cakes for family, and all the other nice extras may not be a priority. If you try to do it all, eventually, there will be a high price to pay.
Ask For Help: Delegate Tasks. This is one of the most common mistakes among well-intended caregivers as I have heard too often, "I made the decision to take care of my mother, so I will bear the burden and responsibilities." Not true! While you may have taken on the majority of the responsibility, others often want to participate, even if in a small way. Allow others to: do laundry, shop, care for the house and yard, sit and care for your loved one a few days or nights each week. These acts of kindness allow you to concentrate on more important tasks and keep your sanity. Also, it allows others to feel like they are a part of this important journey. Don't be afraid to ask!
Use Technology: Avoid taking unnecessary calls by using caller ID and voicemail. This will also allow you to return calls at your convenience. Consider using a medical alert system to respond to emergencies whether you are home or away. Smart phones have calendars with check lists, alerts, and organization Apps to help you keep appointments, to-do lists, grocery needs etc.
Be Spiritual: Get to worship services – especially if this important to you and it was part of your routine before care-giving.
Communicate to Build a Support Network: Be sure to make time for those you love and love you. Remember, you still have a life, spend time with your spouse, significant other, children, grandchildren and good friends. Be sure to spend more time with those who are fun, energetic and will help you remember to celebrate life.
Take Care of Your Own Health Needs: Get to your physician and dentist for regular checkups and tests. Remember to eat healthy, exercise and get enough sleep.
Exercise Your Brain: Some studies show that maintaining a healthy mind requires some work. As difficult as it is, when you have a moment, do crossword puzzles, word games, board games, and read or listen to books instead of watching television.
Source: Centers for Disease Control and Prevention (cdcinfo@cdc.gov)
Medical Contributor: Ralph DeMario, MD, CMO, Hospice of the Sacred Heart
Read Dr. Mackarey's Health & Exercise Forum – Every Monday. Next week read "Hospice Care and Bereavement Part III." This article is not intended as a substitute for medical treatment. If you have questions related to your medical condition, please contact your family physician. For further inquires related to this topic email: drpmackarey@msn.com
Paul J. Mackarey PT, DHSc, OCS is a Doctor  in Health Sciences specializing in orthopaedic and sports physical therapy. Dr. Mackarey is in private practice and is an affiliate faculty member at the University of  Scranton, PT Dept.