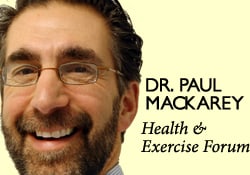 Guest Contributor: Erin Kane
Saturday May 7th is Kentucky Derby Day! This event is followed by the Preakness Stakes on May 21 and the Belmont Stakes on June 11th to complete the famous U. S. Triple Crown of horseracing. No horse has won the crown since Affirmed in 1978.
Horseback riding is an exciting form of sport and exercise for many people in NEPA. Last month, a mother requested a column about the prevention and treatment of injuries for those involved in horseback riding. As I only ride about once a year and am no expert on this matter, I have engaged the expertise of my good friend and equestrian enthusiast Erin Kane. I had the pleasure of spending a beautiful fall afternoon at Sugar Mountain Farm in Dalton with Erin, her husband Dick and her 10 horses. Erin has a Master of Science degree in nursing, which adds to her knowledge on equestrian health and safety. You will find Erin's experience, passion and enthusiasm for the sport enjoyable and informative. For those who don't think horseback riding is a legitimate sport or form of exercise, just ask Erin to show you her biceps!
TYPES OF RIDING
Western Riding is a style of horseback riding that evolved from the ranching and warfare traditions brought to the Americas by the Spanish conquistadors in the 16th century. Both equipment and riding style evolved to meet the needs of the cowboy in the American west. Long hours in the saddle, often at high speeds and over rough terrain, influenced this style of riding. The need to control the horse with one hand and use a lariat with the other also influenced its design. Western saddles are much deeper and larger than English saddles and have a prominent horn for wrapping the lariat. This allows the rider to balance the hips and shoulders over a deep seat and maintain an erect upper body and head.
Hunter or Jumper Riding is a style of English horseback riding that arose from the tradition of fox hunting. The saddle is much smaller than the Western saddle, and the rider must hold the rein in both hands. The English hunter horse is trained to walk, trot, canter, gallop, and jump over natural-looking obstacles to simulate fallen trees or brush that might be found on a hunt.  This rider has an erect but relaxed posture with body weight transferred to the heels. The stirrups are shorter than in western mounts to allow leg contact with the horse at the inner thigh and calf, which helps maintain balance while jumping.
Cross Country/Eventing is an equestrian jumping endurance test and is one of the three phases of the sport eventing that test speed, endurance and jumping. The saddle and position are similar to hunter or jumper riding.
Classical Dressage is a style of English horseback riding that evolved from cavalry movements for the battlefield. The stirrup length is longer than the hunter saddle, and the rider is not as low in the saddle. This allows the rider to maneuver the horse more freely in all directions, as needed to escape in battle. Modern dressage horses compete by demonstrating complex and beautiful dance-like movements.
Saddle Seat is a style of English horseback riding designed to show off the high trotting action of certain horse breeds. It finds its history in the plantation tradition of the American south, where these movements were needed by overseers when traversing the fields.  This rider sits back in the saddle behind the horse's center of balance, allowing the horse to use his front legs to step up.
Guest Contributor: Erin Kane, RN, MSN, is the owner of Sugar Mountain Farm in Dalton, PA
NEXT MONDAY – Read Dr. Paul J. Mackarey "Health & Exercise Forum!" Read Horseback Riding – Part II
This article is not intended as a substitute for medical treatment. If you have questions related to your medical condition, please contact your family physician. For further inquires related to this topic email: drpmackarey@msn.com
Paul J. Mackarey PT, DHSc, OCS is a Doctor in Health Sciences specializing in orthopaedic and sports physical therapy. Dr. Mackarey is in private practice and is an affiliated faculty member at the University of  Scranton, PT Dept.