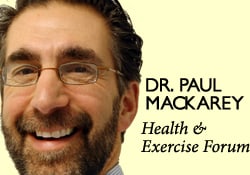 Part 1 of 5
 "Health and Exercise Forum" by Dr. Paul Mackarey, completes its 10 year in June of 2015 …THANK YOU! Thank you for your kind words, positive (and negative) feedback in the form of phone calls, texts, emails and simple chats on the street. I am grateful and humbled. As I wrote in my first column in June of 2005, "Health and Exercise Forum" is your column and has no purpose or value without your interest. I asked for your input, and you gave it. Thank you. Many of you have given me sage and insightful advice. Others have offered creative and current topics as suggestions for columns. You have embraced the addition of the medical students from The Commonwealth Medical College as "guest columnists." I believe, and you apparently agree based on your feedback, they have been a fresh addition to the column and are the future of "current medical wisdom" in NEPA.
In honor of the 10th anniversary of "Health and Exercise Forum," I decided to write a series of columns that encapsulates the most important and current messages regarding health, wellness and longevity because readers in NEPA seem to be consistently interested in this topic. While I have written about this repeatedly, in many different ways over the past 10 years, I thought this would be the perfect time to share some new information. Please enjoy and embrace the wisdom of those centenarians both from NEPA and from around the globe and let me know your thoughts.
Longevity in NEPA… learn from good examples.
Longevity! The average life-expectancy in the USA is 78 years (76 for males and 81 for females) according to the Centers for Disease Control. The approximate number of centenarians in the USA is 53,364, 82% of whom are female. By 2050 it is expected that the number of people in the USA that live to be 100 years of age will be 272,000. While this news is encouraging, it is important to realize that there is tremendous room for improvement as the USA ranks only 36th in the world for average life expectancy. Moreover, there is much to learn from our friends around the world.
NEPA has several citizens who have redefined aging. Leo Moscovitz, who died recently at the age of 109, is probably one the best know local centenarians. He led an active life, maintained intellectual curiosity and purpose with a keen sense of humor. In a speech at a party honoring him for his 100th birthday he said, "The best part about being 100 years old is…no peer pressure!"  In my 30 + years of practice as a physical therapist, I have been fortunate to encounter many seniors who have been my "longevity role models." I have tried to be a good student and learn from their successful lives. For example, William Haggerty, retired teacher, father of 12, including my good friend Dr. Jim Haggerty, ran more than 14 marathons and in 1999 at the young age of 83 he completed the Steamtown Marathon. He taught me the simple but valuable lesson to "keep moving forward." Mrs. Miriam Joseph, retired librarian, taught me a very different lesson. As her 80+ body began to fail her, she fought back by working hard to remain intellectual curious. She maintains a young and active spirit as a veracious reader and generously shares her newly gained knowledge with me and others and provided many topics for "Health & Exercise Forum" over the past 10 years. Others, like Dr. Dominick and Clare Maldonado, both centenarians, taught me the importance of faith, prayer, and volunteerism.  Doc lived to be 100 and Clare, who was 103 in May of 2015, are the founders of Agency of Retarded Citizens (ARC) in NEPA, one of the first communities in the country to offer services specifically for the needs of those with intellectual challenges. The Mori brothers, both retired physicians, are another example of aging well. Hugo Mori, 80+, enjoys tremendous physical fitness. He and his wife, Jean, play tennis daily in NEPA and Florida. From them, my wife Esther and I have learned the importance of a healthy diet, daily exercise and the blessings of being an active couple together. Older brother Gino, 82, is truly NEPA's ageless "renaissance man." Those who know him, feel he may exemplify all the necessary components to a well-balanced retired life. I am proud and grateful to call him friend and mentor. He has taught me many things by example. First, he retired from medicine, not life. He takes classes at the University of Scranton on subjects ranging from Classical Italian, Art History and Genetics. If intellectual stimulation is not enough, he has expressed his creative genes by taking art classes at Keystone College in sculpture, painting, carving and drawing. He is maintains an interest in the performing arts by attending the opera, theater, ballet and orchestra. Each day, he reads, walks 2-3 miles, spends time relaxing with family and friends. He continues to enjoy traveling and learning new things. He has taught me the invaluable lesson of, NEVER STOP LEARNING NEW THINGS! Lastly, my favorite longevity role model in NEPA is my father, Paul Mackarey Sr who was 90 in January 2015. He has taught me four invaluable things to live a long and happy life. One, there is nothing more important in life than family. Two, don't allow the bad things that happen to you in life to define you as a victim. Three, don't waste time dwelling on things that you can't control. Four, and maybe most important, always maintain a good sense of humor…life can be funny!
The aforementioned examples of longevity in NEPA are representative of a much larger discovery from around the world. Read "Health & Exercise Forum" the next 4 weeks and discover the secrets and commonalities to longevity from centenarians around the world based on the research National Geographic Explorer, Dan Buettner, You can learn how to apply it to your own family, friends and community.
Read Dr. Mackarey's "Health & Exercise Forum" every Monday in the Scranton Times-Tribune. Next week read: Part 2 of 5 "Longevity"
This article is not intended as a substitute for medical treatment. If you have questions related to your medical condition, please contact your family physician. For further inquires related to this topic email: drpmackarey@msn.com
Paul J. Mackarey PT, DHSc, OCS is a Doctor  in Health Sciences specializing in orthopaedic and sports physical therapy. Dr. Mackarey is in private practice and is an associate professor of clinical medicine at The Commonwealth Medical College.