Holiday shopping is stressful to your body as well as your wallet. Driving from store to store, getting in and out of the car, bundled in a sweater and winter coat, the expert shopper carries package after package from the store, to the car, over and over again. Six, eight, or ten hours later, the shopper arrives home exhausted, only to realize that 15, or 20 packages must be carried from the car into the house. This dilemma is compounded by the fact that the rain turned to sleet, and the sleet to snow. Travel by car and foot are treacherous. You are slipping and sliding all the way from the car to the house while carrying multiple packages of various sizes and shapes. The shopping bags get wet and tear, forcing you to tilt your body as you carry the packages. Of course, no one is home to help you unload the car and you make the trip several times alone. You get into the house exhausted and crash onto the couch. You fall asleep slouched and slumped in an overstuffed pillow chair. Hours later you wake up with a stiff neck and lower back pain. You wonder what happened to your neck and back. Consider the following:
Lack of sleep and stress – can cause your muscles to tighten up and spasm.

Try to get a good night sleep before a day of shopping

Lessen the stress by preparing a shopping list, organizing a sequence to visit stores in a logical order

Try not to "do it all" in one shopping day.

Delegate…get some help from family members.
Driving Long Distances or Getting in and out of the car multiple times

Prolonged sitting and driving, especially with poor posture is very stressful to the neck and back

Getting in and out of the car, twisting and turning multiple times, especially with bulky clothing, is very stressful to the neck and back

Use a lumbar roll when sitting in the car

Sit up straight and adjust seat closer to steering wheel and limit reaching with arms and slouching

Use the headrest for your neck on the highway

Get out and stretch backwards to extend your neck and back every 45-60 minutes in the car
Carrying packages

Make a few extra trips to the car to drop off packages before they accumulate

Multiple packages of different sizes and shapes, especially with torn bags or without handles make your neck and back vulnerable

Bending over to browse through or paying for items, especially while holding your purse or other packages, makes your neck and back strain

Bending over and twisting to put items in the car and trunk makes you vulnerable to back pain

Use good quality shopping bags and a cart when possible

Put down items when browsing or paying

Do stretching exercises bending you neck backwards, extending your lower back and pinch your shoulder blades together 10 times every 30 minutes of shopping

Use a lightweight purse when shopping or use a wallet and leave the purse at home
Slipping and twisting

Twisting and slipping while carrying packages can twist and strain your back or neck

Be extra careful in bad weather by wearing good shoes with a nonskid sole

Switch sides, alternating from right to left when you carry your packages and your purse
Resting or sleeping in a slouched position

Falling asleep on too many pillows or with your neck twisted is very bad for your neck and your lower back in a hammock position is very bad for your lower back

Make sure to lie down flat, with one pillow for your neck and maybe one under your knees

If you sit, use a lumbar roll in the small of your lower back
Poor Footwear

Heels and most dress shoes may look good but don't cut it for shopping support

Wear comfortable shoes with good support like you wear to walk at Disney
Pamper Yourself: After all your hard work, in the spirit of the spirit of the holidays, treat yourself to some great relaxation with the aid of:
Other Tips:
Plan Ahead: It is very stressful on your spirit, wallet and back to do all of your shopping in the three weeks available after Thanksgiving. Even though we dislike "rushing" past Thanksgiving to the next holiday, try to begin holiday shopping in before
Use the Internet: Supporting local businesses is important. However, Internet shopping can save you lots of wear and tear. Sometimes, you can even get a gift wrapped.
Gift Certificates: While gift certificates may be impersonal, they are easy, convenient and can also be purchased over the internet.
Perform Stretching Exercises: Chin Tucks, Shoulder Blade Pinch, Back Extension. Stretch intermittently throughout the shopping day…try the three exercises below, gently, slowly, hold 3 seconds and relax, repeat 5 times.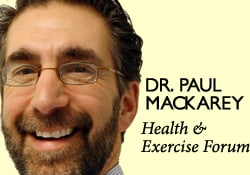 NEXT MONDAY – Read Dr. Paul J. Mackarey "Health & Exercise Forum!"
This article is not intended as a substitute for medical treatment. If you have questions related to your medical condition, please contact your family physician. For further inquires related to this topic email: drpmackarey@msn.com
For all of Dr. Mackarey's Articles visit: mackareyphysicaltherapy.com/forum
Paul J. Mackarey PT, DHSc, OCS is a Doctor in Health Sciences specializing in orthopaedic and sports physical therapy. Dr. Mackarey is in private practice and is an associate professor of clinical medicine at Geisinger Commonwealth School of Medicine.