It is August and summer is rapidly passing! So, get outdoors and have fun in the sun. However, please be mindful of how your body reacts to high humidity and heat and take appropriate precautions. Athletes are particularly vulnerable this time of year due to daytime practice sessions. (August 8, 2022, first day of acclimatization and August 15, 2022, first day of practice for fall sports according to PIAA), Keep in mind, you don't have to be running a marathon or playing football in full uniform to suffer from heat stroke.
Heat Stroke
Heat stroke, one of the most serious heat-related illnesses, is the result of long term exposure to the sun to the point which a person cannot sweat enough to lower the body temperature. The elderly and infants are most susceptible and it can be fatal if not managed properly and immediately. Believe it or not, the exact cause of heatstroke is unclear. Prevention is the best treatment because it can strike suddenly and without warning. It can also occur in non athletes at outdoor concerts, outdoor carnivals, or backyard activities.
Hot Temps and Exercise
Some "old school" folks think that wearing extra clothing and "breaking a good sweat" is an optimal goal for exercise. However, it may be potentially very dangerous in hot and humid conditions. When exercising in hot weather, the body is under additional stress. As the activity and the hot air increases your core temperature your body will to deliver more blood to your skin to cool it down. In doing so, your heart rate is increased and less blood is available for your muscles, which leads to cramping and other more serious problems. In humid conditions, problems are magnified as sweat cannot be evaporated from the skin to assist in cooling the body.
The American Academy of Pediatrics and The American College of Sports Medicine has the following recommendations which are appropriate for both the competitive athlete and weekend warrior:
Signs of Heatstroke:
Heat Exhaustion – can be a precursor to heat stroke.

Signs: cramps, weakness, fatigue, nausea.

Treatment: rest in shade, cool down with cool (not cold) towels, and drink plenty of fluids.

Core Body Temperature above 105 degrees Fahrenheit
Hot, dry skin – flushed but not sweaty
Lack of sweating

NOTE: athletes often have external heatstroke and they can sweat even with an increase core temperature
Very rapid pulse
Mental confusion, disorientation or hallucinations
Physical clumsiness, sluggishness or fatigue
Seizure
Dizziness
Treatment of Heatstroke:
CALL 911 – Remember this may be life-threatening
Relocate – to a cool shady place or air-conditioned indoors and lie down with slight elevation of feet
Undress – Remove outer garments and roll onto side to expose as much skin as possible to the air
Cool Down – spray or sponge with cool water (not cold) and fan the skin
Ice – place ice packs to the groin, neck and armpits to cool down large blood vessels. No ice bath.
Core Temperature – is the only accurate measurement so medical personnel may take rectal temp if necessary. Must get core temp to 102 degrees Fahrenheit ASAP.
Begin CPR – if breathing stops
No Aspirin or Acetaminophen – to decrease temp
Administer Fluids – if person is alert enough to swallow give 32 to 64 oz over 1-2 hours
NEXT MONDAY – Read Dr. Paul J. Mackarey "Health & Exercise Forum!"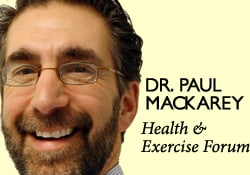 This article is not intended as a substitute for medical treatment. If you have questions related to your medical condition, please contact your family physician. For further inquires related to this topic email: drpmackarey@msn.com
For all of Dr. Mackarey's articles visit: www.mackareyphysicaltherapy.com/forum
Paul J. Mackarey PT, DHSc, OCS is a Doctor in Health Sciences specializing in orthopaedic and sports physical therapy. Dr. Mackarey is in private practice in downtown Scranton and is an associate professor of clinical medicine Geisinger Commonwealth School of Medicine.
Tomorrow is the first day of summer! The days are longer and sun stronger! Local dermatologist, Dr. Ted Stampien, Jr. can be seen driving his convertible with so much protection from the sun; he may as well have the top UP (bucket hat, sun block 50, long sleeves)! He joked that even the most vigilant dermatologists allow for a little fun in the sun. However, he emphasizes that there is no such thing as a HEALTHY tan.
While protection from the sun is very important, Dr. Stampien feels that too much time indoors playing computer games and watching television, can lead to potential problems from lack of exposure to the sun. One must use good judgment and have balance as the potential exists for Vitamin D deficiency due to lack of sun exposure. This problem may be true for individuals who use too much protection or spend most of their day indoors due to occupation or poor health. Therefore, it will be the purpose of this column to discuss the importance of Vitamin D for health and wellness.
What is Vitamin D
Vitamin D, a fat soluble vitamin, is found in food and can be made by your body after exposure to ultraviolet (UV) rays from the sun. The liver and kidney help convert Vitamin D to its active form. Vitamin D assists calcium absorption, which is essential for normal development and in forming and maintaining strong bones and teeth. Without Vitamin D, bones can become thin, brittle and soft. The classic Vitamin D deficiency diseases are rickets in children and osteomalacia in adults. Rickets results in skeletal deformities. Osteomalacia is the softening of bones. Vitamin D is essential for normal bone health and may diminish or prevent the onset of osteoporosis in the elderly.
The requirement for Vitamin D is dependent on age, sex, degree of sun exposure and the amount of pigmentation in the skin. Since Vitamin D can be produced by the body and retained for long periods of time by the body's tissues, the precise daily requirement has been difficult to determine. Instead, an Adequate Intake (AI) level has been established. AI is a level of intake sufficient to maintain healthy blood levels of an active form of Vitamin D. The AIs are similar for males and females but increase with age:
Ages 19-50: 200 International Units (IU)
Ages 51-69: 400 IU
Age 70 and older: 600 IU
Sources of Vitamin D:
Food Sources

Fortified foods are a major dietary source of Vitamin D

One cup of Vitamin D fortified milk: 98 IU
Dairy products (e.g. cheese, yogurt, ice cream) are generally not fortified
Orange juice, cereals, pastries, breads, crackers, cereal grain bars may be fortified; read the nutrition label for more information.

Only a few foods naturally contain significant amounts of Vitamin D

Salmon, cooked, 3 ½ oz: 360 IU
Mackerel, cooked, 3 ½ oz: 345 IU
Sardines, canned in oil, drained, 3 ½ oz: 270 IU
Liver, beef, cooked, 3 ½ oz: 30 IU
Egg yolk, one: 25 IU

Exposure to sunlight

Regular ultraviolet exposure stimulates the skin to produce Vitamin D.
Exposure to ultraviolet light or ambient sunlight
Exposing the face and hands for 20 minutes, 3 times a week can be sufficient
Exposing the hands, legs and arms for 5 to 10 minutes, 2 to 3 times a week, is more than adequate to satisfy requirements.
Vitamin D Deficiency
Vitamin D deficiency can occur when dietary intake of Vitamin D is inadequate, when there is limited sunlight exposure, when the kidney cannot convert Vitamin D to its active form or when Vitamin D is inadequately absorbed from the gastrointestinal tract. Season, geographic location, time of day, cloud cover, air pollution, sunscreens, living indoors and living in cities where tall buildings block adequate sunlight from reaching the ground affect UV ray exposure. Individuals with limited sun exposure are at risk of Vitamin D deficiency. Homebound individuals, people living in northern latitudes (e.g. New England, Alaska), individuals who cover their bodies for religious reasons and people whose occupations prevent exposure to sunlight may need to supplement with Vitamin D.
Sunscreens with a sun protection factor of 8 or greater will block UV rays that produce Vitamin D. Older adults have a higher risk for Vitamin D deficiency because the skin's ability to convert Vitamin D to its active form decreases with age and the kidneys, which help convert Vitamin D to its active form, do not work as well when people age. Individuals with pancreatic enzyme deficiency, Chron's disease, cystic fibrosis, sprue, liver disease, surgical removal of part or all of the stomach or small bowel disease may need extra Vitamin D because Vitamin D is a fat soluble vitamin and they have reduced ability to absorb dietary fat. Vitamin D supplements are often recommended for exclusively breast-fed infants because human milk may not contain adequate Vitamin D. Consult with your pediatrician on this issue.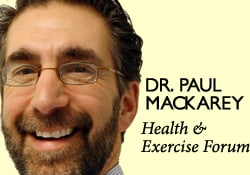 Read "Health & Exercise Forum" – Every Monday in the Scranton Times-Tribune. 
This article is not intended as a substitute for medical treatment. If you have questions related to your medical condition, please contact your family physician. For further inquires related to this topic email: drpmackarey@msn.com
Paul J. Mackarey PT, DHSc, OCS is a Doctor in Health Sciences specializing in orthopaedic and sports physical therapy. Dr. Mackarey is in private practice and is an associate professor of clinical medicine at GCSOM.
For all of Dr. Mackarey's Articles visit: mackaryphysicaltherapy.com/forum