STAY ACTIVE & HAVE FUN IN THE SUN!
Can you believe that the 4th of July holiday was more than one month ago? Do not despair! There is still plenty of time to be outdoors in NEPA and experience so many activities such as: biking, hiking, running, walking, swimming, boating, golfing, and playing tennis to name a few. Late summer and early fall tend to be beautiful and is also a wonderful opportunity to discover your inner child, mix it up and try something new! Below are some new and exciting ways to stay active and have fun in the sun: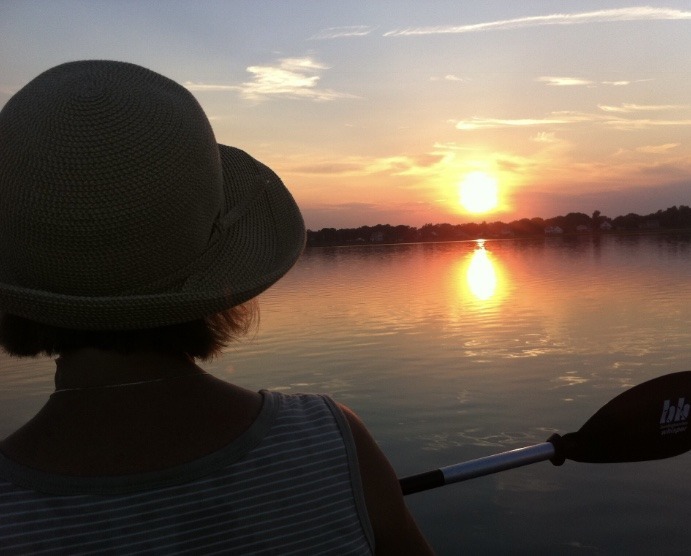 Spending time on any of the beautiful lakes in NEPA is time well spent. From an exercise standpoint, rowing, canoeing and kayaking offer a very special experience. Most kayaks are light weight, easy to use and maneuverable on a lake. Sitting low on the water offers a unique perspective as you feel yourself gliding across the lake. The Countryside Conservancy, in partnership with Lackawanna State Park, sponsors moonlight kayak events on the lake at the park. With a bright full moon, you can begin at 8 pm and return at 10 pm. Bring bug spray and headlights to enjoy the sunset and moon rise on the lake. You will feel like a kid breaking the rules of the park by being on the water after dark!
NOTE: Try kayaking in the daytime first and then advance to sunset trips before staying on the water for the moonlight. Rentals are available at the park.
Gear:
Clothing – a DryTec type material for shirt and pants…bring along a light long sleeve in case the wind picks up or the bugs are out.
Shoes – Aqua shoes are best…old sneakers will work
Water – handheld water bottle or a water proof bag for money, keys, ID, and a granola bar.
Insect Repellent - a must
Headlamp – to see and be seen on the water and packing up.
Change of Clothes – towel and change of clothes in your car…just in case
Website: www.countrysideconservancy.org; www.dcnr.state.pa.us/stateparks.org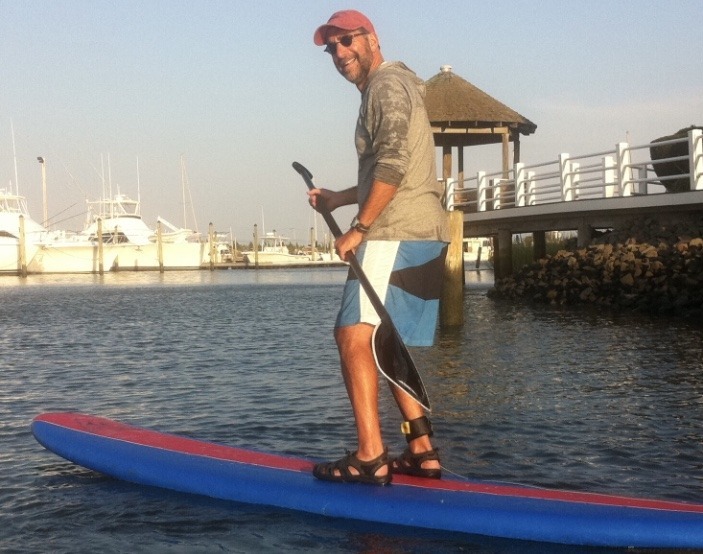 Stand up paddle boarding (SUP) is becoming a fast-growing sport among water enthusiasts. It is a fun way to exercise your core, improve balance, and tone your upper body. It requires minimal equipment; a board that is essentially a long and wide surfboard and a long paddle to use while standing on the board. It can be done in the ocean surf, bay, lakes, or rivers; however, beginners would be wise to stay in calm water. Rentals are available at most beaches.
Check out the video for more information: REI paddleboard basics
Elliptical Peddle Boarding
What is it? Imagine a standup paddle board with a handlebar and pedals like a exercise stepper machine. Instead of using a paddle, you step up and down on the pedals and fins under the board propel you through the water.  Check it out…Hobie Mirage Eclipse Stand Up Peddle Board; Dick's Sporting Goods
Aqua Zumba
Zumba is a very popular form of dance aerobics spiced up with Latin music. When adding water and sun to this already cool activity, you are assured to have fun while exercising. As with any aquatic exercise, the added resistance from the water gives arm rows and leg kicks more challenge. Female participants report an additional benefit; they are uninhibited to "shake that thing" to the music under the cover of the water. So, beat the heat, let loose and get some fun in the sun while you exercise.
NOTE: Consider trying regular Zumba first to get the hang of it. Amy Sekol is a local certified Zumba instructor and also offers Aqua Zumba. (amys.zumba.com)
Website: www.zumba.com
Elliptical Biking
I love this idea…why didn't I think of it first! In the gym I enjoy the elliptical machine because it simulates running without the impact on my joints but of course, I would rather be outdoors. Well, this is the answer to my prayers…an elliptical machine that is attached to a bike with handle bars and brakes included. I think it will probably be difficult on steep hills but it is something I MUST TRY!
Website: www.elliptigo.com; www.mywingflyer.com
Visit your doctor regularly and listen to your body.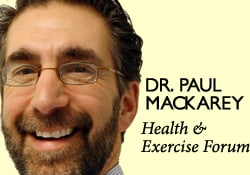 NEXT MONDAY – Read Dr. Paul J. Mackarey "Health & Exercise Forum!"
This article is not intended as a substitute for medical treatment. If you have questions related to your medical condition, please contact your family physician. For further inquires related to this topic email: drpmackarey@msn.com
Paul J. Mackarey PT, DHSc, OCS is a Doctor in Health Sciences specializing in orthopaedic and sports physical therapy. Dr. Mackarey is in private practice and is an associate professor of clinical medicine at GCSOM.
For all of Dr. Mackarey's Articles, check out our exercise forum!