Part II of II: Gardening with Disabilities
Summer (and Memorial Day, the kickoff of the gardening season) will be here soon and gardeners in northeast PA are anxious work in their gardens and enjoy the fruits of their labor. Last week, Health & Exercise Forum presented tips for gardeners for preventing hand and arm injuries such as carpal tunnel syndrome. This week's column is dedicated to prevention of lower back and lower body injuries when working in the yard and for gardeners with disabilities.
A relaxing and enjoyable activity for many, gardening can turn dangerous without proper precaution as repetitive stress injuries, back pain, muscle pulls, can stem from raking, weeding, digging and pruning, can turn into serious problems if not treated appropriately. Since prevention is the best approach, the US Dept of Agriculture promotes warm-up exercises and injury prevention tips to help all levels of gardeners avoid serious and long-term injuries while enjoying this popular outdoor activity.
People with various disabilities enjoy gardening at different levels. For example, those suffering from neurological diseases with muscle weakness, paralysis and poor balance as well as those with musculoskeletal problems such as neck and LBP or hip and knee arthritis can safely enjoy gardening at some level. This outdoor labor of love is very therapeutic.
Warm up and stretching is important. Don't garden first thing in the morning before you have a chance to warm up. Get up, go for a short walk, have breakfast and maybe warm up with a hot shower before working in the garden. Some stretches include: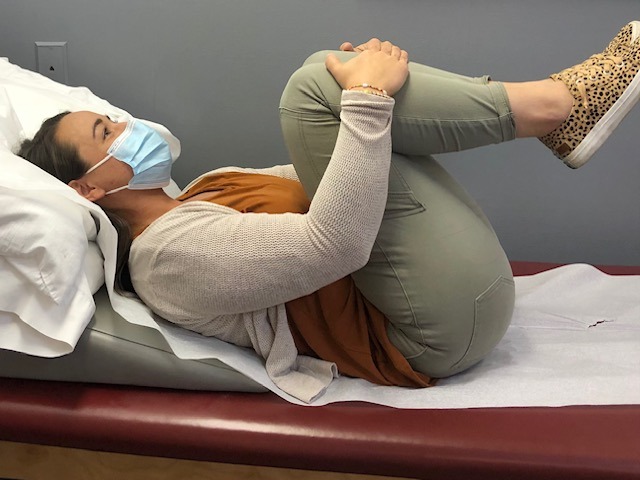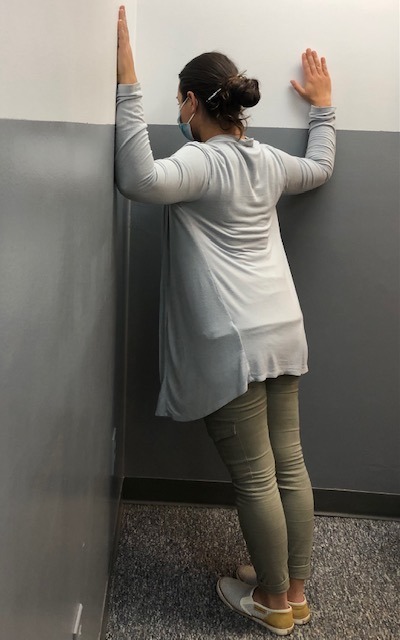 Corner Stretch: Stand facing a corner wall with arms and shoulders at 90 degrees. Lean into corner and stretch shoulders and back. (PHOTO 1)
Knees to Chest Back Stretch: While lying on your back, bring both knees up towards your chest. (PHOTO 2)
Note: These exercises should never be painful when completing them. You should only feel a gentle stretch. Hold the stretch10 seconds and repeat 5 times before you garden and every 2-3 hours while working. Should you experience pain, please consult your family physician or physical therapist.
The following guidelines to prevent injury and foster healthy gardening for those with and without disability:
Listen To Your Body – Aches and pains are signals from your body that you may be doing something wrong or overdoing it. Just like a baseball player in spring training, you must ease into a new activity slowly and stop before you get pain. Do not try to do it all in one day.
Take Frequent Breaks – Perform work in short sessions, with a rest and stretch break between gardening sessions to reduce muscle fatigue and pain.
Change Positions Often – Alternate positions from standing, sitting, bending, and kneeling every 15 to 20 minutes.
Use Large Muscles- When possible use the large muscles of the body to do the work. For example, use your legs to push a shovel blade into the ground instead of your arms. Also, lift with your legs and not your back.
Avoid Awkward Motions – Do not squat, twist and bend at the waist for prolonged periods or with repetition.
Use Supportive Devices and Braces – Remember to wear wrist and knee supports if you have a problem. A lower back brace or corset is also advisable when working in the garden to protect the spine and add support.
Use Well Designed Tools. Use the right tools for the job. Padded, ergonomic handles with extensions to add reach are helpful.
Use Sun Block, Sun Glasses and bug spray – to protect your skin and eyes from the sun and ward off ticks and other bugs.
Plan ahead. Use a container with wheels to carry supplies to the garden. When necessary it should be carried/pulled with hands, distributing the workload equally and decreasing stress in the joints of your body.
Eat Well and Stay Hydrated – When working outdoors eat and drink properly for the climate and temperature.
Use Adaptive Devices - Special gardening carts, wheel barrels, motorized carts, and a garden tractor with a cart can make a job easier, especially for those with disabilities.
"Easy-Grip" tools are available for those unable to grip strongly. For example, hand shovels and weed cultivators that attach to the wrist/forearm with Velcro straps and tools with telescoping extensions are available. (www.wrightstuff.biz)
Mobile Adjustable Stools – with arm rests and 2-3 steps that allow you to go from sitting upright to a position closer to the ground.
Elevated and Raised Beds – allows gardening from a standing, sitting or wheelchair height for improved safety and enjoyment.
Pipe Planter or Seeder – a PVC pipe 5-6 feet long allows planting and seeding without bending or kneeling. For example, a 6 or 8 inch pipe allows plants to slide down and be tampered into a hole and a 1-2 inch pip allows seeds to slide down to the ground for cover or planting.
Kneeling Pads, Mats, Carts – are healthier for your knees and back.
Source: Karen Funkenbusch, MA; Willard Downs, PhD.: U. S. Department of Agriculture - Agricultural Engineering Extension
Model: Ashley Ottaviani, PTA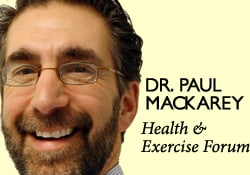 NEXT MONDAY – Read Dr. Paul J. Mackarey "Health & Exercise Forum!"
This article is not intended as a substitute for medical treatment. If you have questions related to your medical condition, please contact your family physician. For further inquires related to this topic email: drpmackarey@msn.com
Paul J. Mackarey PT, DHSc, OCS is a Doctor in Health Sciences specializing in orthopaedic and sports physical therapy. Dr. Mackarey is in private practice and is an associate professor of clinical medicine at GCSOM. Access all of Dr. Mackarey's articles at our Health and Exercise Forum!
For those trying to lose weight or "get in shape" for the New Year (number one resolution), a better understanding of the role sugar plays in your diet and overall health may be valuable. You have probably noticed a lot of attention being paid to sugar lately. Many television stars, like Ellen DeGeneres, have shared their experiences using a "sugar cleanse" when they need to lose a few pounds and get healthier. I have had several patients and friends tell me the same thing.
For 4-6 weeks these people decide to avoid all refined sugars with the goal of losing weight and improving their health and wellness. Well, what is all the fuss about? Terms like simple sugars and simple carbs, which are purported to be bad, and complex carbs, suggested to be good, are being used ad nauseam. While medical research does not support the value of a short term "sugar cleanse," it may have value for another reason. For example, it would be very beneficial if one engages in a "sugar cleanse" for the purpose of changing their palate with the hope of developing long term healthy eating habits, especially for those with diabetes.
So, with this in mind, I decided to find the answers to some simple questions about the fuss over sugar. What is a simple sugar? What is a complex sugar? Which sugars are good for you?
WHAT IS A SIMPLE SUGAR (CARBOHYDRATE)?
Sugars, along with starches and fibers, are one of three types of carbohydrates (also referred to as a carb). A carb is "simple" or "complex," based on its chemical composition and how it is processed in the body. It gets a little complicated because some foods have both simple and complex carbs. Typically, simple carbs are chemically more "simple" and basic, and therefore they are broken down more easily and serve as a quick source of energy. Some of these carbs are naturally simple (like fruit and milk) while others are processed or refined sugars such as those used in candy, soda and baked goods.
It is Good Sugar or Bad Sugar?
To determine if a food product has good or bad simple sugar, you must also know how much fiber, vitamins and minerals are in the food. A food with a higher sugar content combined with a low fiber, vitamin or mineral content will be worse than a food with the same sugar content but high fiber and vitamins or minerals. For example: a candy bar, which is high in sugar without fiber or vitamins or minerals, is not as healthy as a fresh orange, which contains fiber, vitamins and minerals along with its simple sugar (fructose).
Examples of simple carbs:
most candy products
non-diet soft drinks
cookies and cakes
iced tea and lemonade with sugar
energy drinks
ice cream.
WHAT IS A COMPLEX SUGAR (CARBOHYDRATE)?
Complex carbs have a more complicated chemical makeup and take more time for the body to break down for use as energy. Therefore, these are considered "good" carbs because they provide a more even distribution of energy for the body to use during activity. They cause a more consistent and gradual release of sugar into the blood stream (as opposed to peaks and valleys caused by simple carbs) and provide energy to function throughout the day. Additionally, "good" carbs have the added benefit of providing vitamins, fiber, and minerals that are missing from simple carbs.
Examples of complex (carbs):
Whole grains: buckwheat, brown rice, corn, wheat, barley, oats, sorghum, quinoa, breads and pastas made with whole grains
Dairy: low fat yogurt, skim milk
Nuts, Seeds, Legumes: lentils, kidney beans, chick peas, split peas, soy beans, pinto beans, soymilk
Fruits and Vegetables: potatoes, tomatoes, onions, okra, dill pickles, carrots, yams, strawberries, peas, radishes, beans, broccoli, spinach, green beans, zucchini, apples, pears, cucumbers, asparagus, grapefruit, prunes 
WHY EAT COMPLEX CARBS INSTEAD OF SIMPLE CARBS?
Remember that carbohydrates fuel the body and are an important source of energy, especially for active and athletic people. However, carefully selecting the type of carb you eat is critical to peak function and performance.
Simple Carbs
Simple carbs taste great (according to our modern brain raised on simple sugars) and are easy to breakdown into a quick source of energy. However, the sensation of hunger is quick to return because the sugar is released and used up in the body quickly, giving the sensation of needing more.
They are often "refined" and therefore stripped of their fiber, vitamins and minerals, which is why they are often referred to "empty" calories.
Simple carbs lead to rapid spikes in blood sugar and insulin levels after meals. When these levels are not controlled over time, it can lead to obesity, which is ultimately related to adult-onset diabetes and high blood pressure. 
Complex Carbs
Complex carbs make you feel full faster and longer and therefore, are an important component to weight loss.
They keep the body fueled for an extended time.
Complex carbs are easier to digest and the fiber content allows for smoother digestion with less bloating and gas, and improved toxin removal.
Complex carbs from vegetables have been found to lower LDL cholesterol, blood pressure and heart disease.
TIPS TO EAT MORE COMPLEX CARBOHYDRATES!
Eat whole grain (instead of white) pasta and bread
Eat raw vegetables instead of pretzels and chips
Add fruit to your yogurt or oatmeal instead of sweetener
When baking, try cutting the recommended sugar in half and/or use a sugar substitute
Drink water or diet soft drinks instead of sugared soft drinks, juices or teas
Eat dessert like the Europeans…fruit and cheeses instead of cookies or cake
Be aware of condiments such as ketchup and barbeque sauce which contain much more sugar than mustard
Eat beans or quinoa instead of rice as a base to a meal
Add chickpeas, beans, or beets to a salad
Drink skim milk and eat low-fat yogurt
Examine the labels on store bought food and look for low-fat/healthy options on the menus
Sources: www.everydayhealth.com; www.yourdictionary.com; Mayo Clinic
Visit your doctor regularly and listen to your body.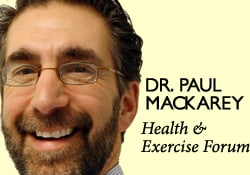 EVERY MONDAY – Read Dr. Paul J. Mackarey "Health & Exercise Forum!"
This article is not intended as a substitute for medical treatment. If you have questions related to your medical condition, please contact your family physician. For further inquires related to this topic email: drpmackarey@msn.com
Paul J. Mackarey PT, DHSc, OCS is a Doctor in Health Sciences specializing in orthopedic and sports physical therapy. Dr. Mackarey is in private practice and is an associate professor of clinical medicine at Geisinger Commonwealth School of Medicine.
For All of Dr. Mackarey's articles: visit our healthcare forum!