Dry Tech Exercise Clothing
Dry Tech is the best thing that has happened to exercise apparel since "jogging suit" was donned by all the "cool dudes" in the 70's and 80's . It is has great style and even better function. The specially made material is light weight and breathable and wicks moisture from the skin to the outer layers. Therefore, it will not get heavy with sweat which can weigh you down and cause friction with your skin which can lead to chaffing and blisters. The following exercise apparel is now available in Dry Tech:
Short sleeve tee with a matching long sleeve shirt
Shorts and compression under shorts
Colorful socks; NOTE: Shoes are a very important aspect to safe and comfortable exercise but are unique for running and other specific sports (tennis, basketball). Sneakers may be too difficult to buy for someone else.
Exercise Mat
An exercise mat is helpful if you decide to exercise at home. Also, if you participate in yoga or Pilates classes, a mat is required equipment.
Hand Held Dumbbells and Sandbag Leg Weights
These are essential for those interested in home exercise. For the average beginner, 3-5-8-10 pound (two of each) weights will be adequate. Dumbbells are good for shrugs, biceps, and triceps, bent over rows and lats, and lunges. Incremented and stackable dumbbells are also available by Bowflex SelecTech 552 (5-52 pounds for $299). and NordicTrack $189. Sandbags, which can be purchased as graduated weights from 1 to 5 pounds, are good for leg extensions, hamstring curls, hip hikes and hip abduction.
Resistance Bands
These cheap and versatile bands are also essential for a home program. The bands come in different colors to represent the amount of resistance with yellow being the easiest and black the most difficult. They can be used for upper and lower body. For specific band exercises visit a previous column in "Health & Exercise Forum" at The Times Tribune or www.mackareyphysicaltherapy.com
Aerobic Equipment
Bike – Plus: upright or recumbent bikes are an effective and affordable method of aerobic exercise. It is very useful for those suffering from lower back, hip, knee or ankle/foot pain because it can be performed with partial weight bearing. Minus: must be able to bend your knees at least 110/115 degrees.
Treadmill – Plus: great for those who love to walk or run and need and indoor alternative in inclimate weather. Minus: large and expensive
Elliptical – Plus: a good alternative to the pounding of running. Minus: expensive, large, and require full weight bearing.
Fitness Club Membership
Location is important for convenience. The type of gym, such as, cross fit, exercise machines vs. traditional free weights, must be considered. Equipment and other services such as personal trainers, swimming pool, sauna, hot tubs, Pilates, and yoga classes are also important to some.
If the person you want to gift already belongs to a gym, consider purchasing a gift certificate for massage, Pilates, yoga, spin class or aquatic exercises at their gym (which usually costs extra) or another studio.
Personal Trainer Gift Certificate or Home Virtual Trainers
This can be an opportunity for someone to either get the proper advice from a professional to begin a fitness program or to revamp and tune up an old stale program. Word of mouth is a good way to find a reputable certified trainer.
Peloton – ($1,495 bike, $2,495 treadmill); Mirror Exercise – ($995); FightCamp – ($1,219.)
Electronic Fitness Monitors or Wearable Tech Monitor
These devices use GPS technology to help the user track their activity to get more out of their exercise routines. They monitor activity, heart rate, distance, location, calories, and more. Some examples are:
Pedometers – clips on a belt – best for tracking steps - tracks steps taken by walkers and runners and translates it to miles. Some also translate calories expended. Suggestions: "Perfect Fitness" or Timex" $5-$25.
Activity Trackers – worn as wrist band – best for tracking general fitness, calories and sleep patterns 24/7. It can be connected wireless to your cell phone. Suggestions: "Fitbit" $119 to $149. Garmin Vivoactive 3 $159.
Running Watches – are worn as a wrist watch – best for timing workouts and counting laps - a rugged, waterproof watch to be worn while running to track laps, splits, countdown, intervals and training logs. However, it does not track distance, speed or heart rate. Suggestions: Timex Ironman $38.97. Garmin Forerunner 45S $129.
Heart Rate Monitors – worn as a chest-strap or wrist strap – monitors your heart rate in real time. Suggestions: Garmin Vivofit 4 $62.; Polar H10 $89.95
WHOOP – this next generation fitness and health monitoring is smaller and faster with new biometric tracking, including skin temperature, blood oxygen, and more. Whoop.com $30/month.
Weight Loss and Activity Monitoring Apps
Note: Basic Apps are free and more advanced versions are under $10.
Weight Loss – Suggestions: "Lose It"; "My Diet Coach" - helps you keep a journal, calculates calories for free. The App gives calorie credits if you exercise and provides ongoing feedback to help you stay on track to attain your optimal weight.
Activity Monitor – Suggestions: "Endomodo"; "Human" – uses GPS to track your every step when you go for a hike, run, fitness walk, touring walk at Disney, or bike ride on trails, ski cross country or downhill. It will calculate distance, speed, location, total time and total calories.
Nutritional Counselor Gift Certificate
Sometimes you need professional help to get started and stay focused. Just as with a personal trainer, a qualified and licensed nutritional counselor will assist you in establishing a safe and effective program to meet your nutritional and dietary goals. Again, ask around to see who has a good reputation or who may be a good fit for the recipient of your gift.
These gifts can be purchased at most local sporting goods stores or on-line.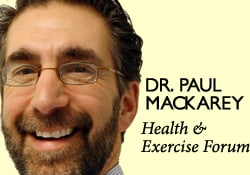 EVERY MONDAY – Read Dr. Paul J. Mackarey "Health & Exercise Forum!"
This article is not intended as a substitute for medical treatment. If you have questions related to your medical condition, please contact your family physician. For further inquires related to this topic email: drpmackarey@msn.com
Paul J. Mackarey PT, DHSc, OCS is a Doctor in Health Sciences specializing in orthopaedic and sports physical therapy. Dr. Mackarey is in private practice and is an associate professor of clinical medicine at GCSOM.
For all of Dr. Mackarey's articles visit: mackareyphysicaltherapy.com/forum