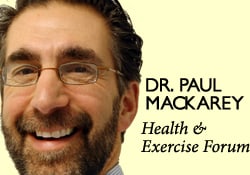 One positive outcome of the home confinement during the pandemic is that many people are spending more time than usual getting fit. However, when it comes to exercise, like many things, there is a right way and a wrong way to do it. And, as with many topics in the health and fitness world, there are many, many misconceptions about exercise. Here are my top ten most common exercise myths!
No Pain, No Gain.
FALSE – Why pain is different than discomfort…
Muscle soreness and "feeling the burn" can occur during a normal healthy exercise routine. However, you should never experience a sharp, deep, intense or lingering pain during or after exercise. In fact, if the soreness lasts more than 24-48 hours, than you did more damage than benefit to your muscles and other tissues and it is time to scale back and take time off. If necessary, use RICE (rest, ice compression and elevation). It is important to get in tune with your body and learn the difference between muscle strain and fatigue discomfort and pain from soft tissue damage from overuse and overload. Find the proper amount of weight and repetitions and gradually increase over time.
2. Always Stretch Before you Exercise.
FALSE – This is not always the best advice
There is no solid evidence that stretching alone before a sport or activity prevents injury. In fact, over stretching may be counterproductive before a sport as it may weaken the muscle. The current wisdom on the matter is; never stretch a cold muscle. Instead, warm up for 5-10 minutes by actively moving the extremities and light jogging or biking and THEN lightly stretch the arms, legs, back etc. More vigorous stretching should be performed to improve the flexibility of tight muscles (ie calf and hamstring muscles) and best done after your workout but not before a sporting activity (tennis, basketball, etc.).
3. Lifting Weights Will Make you Bulky.
FALSE – Depends on your hormones
It is very unlikely that women and pre pubescent males will bulk up from lifting weights…especially light weights (blame or thank hormones). It will, however, increase metabolism and fat burning efficiency which can lead to weight loss and good muscle tone. Stick with low resistance and high repetitions for best results.
4. With the Correct Program, Spot Reduction Can be Achieved
FALSE – It is not possible to target an area of the body to burn more fat
It is very common for women to ask for a specific exercise to reduce the fat in their buttocks, thighs and abdomen. Regretfully, it is not possible to target weight loss in these areas or other body parts. In fact, when you lose weight through diet and exercise, the caloric expenditure will be evenly distributed throughout the body. However, once the adipose tissue in a specific part of the body such as the abdomen is reduced from general weight loss, targeting the area with exercises specific to that muscle group will improve the tone and definition for a leaner look in that region.
5. If you don't have 45-60 Minutes to Exercise, Don't bother.
FALSE – The research on this topic does not support it
Sure, it would be great to dedicate 60 minutes 5 -6 days a week for exercise. But for most of us who work and raise a family it is not practical. The good news is that the research supports 30 minutes of exercise 3-5 days a week. Moreover, evidence shows that 10 minutes, three times a day, 5 days per week will help you attain the 150 minutes a week supported in most exercise studies.
6. If you have Arthritis, Exercise will make it worse.
FALSE – There is no evidence to support this…but it supports the opposite.
Most people with the most common form of arthritis, osteoarthritis, feel better when they are moving. That is not to say that they don't have increased symptoms when they OVERDO it. An exercise program specifically designed for a person's problem and limitations will improve their symptoms and function. For example, if an individual has arthritis in their knees, they should use an exercise bike (partial weight bearing) or swim (buoyancy effect of water) instead of walk or run (full weight bearing) for aerobic exercise. Furthermore, they would do far better with light cuff weights in a sitting or lying position to strengthen their legs than performing squats or lunges. It is important to remember, the weight gain and joint weakness and stiffness associated with a sedentary lifestyle will do more harm to an arthritic joint than a proper exercise program.
7. You Need a Sports Drink When you Exercise
FALSE – Not unless you are planning a killer workout
The number one reason most of us exercise is to lose or control body weight. With this in mind, high calorie sports drinks are counterproductive and unnecessary. If you do not plan on exercising for more than 60 minutes, good old fashion H2O is more than adequate. However, if you plan to do a "killer" workout for more than 60 minutes and may incorporate a high intensity interval training (HIIT) program, than a sports drink with electrolytes and other nutrients, may be of value.  
8. Exercise Machines are Better than Free Weights
FALSE – For most of us, effective resistance training is not about the equipment
It is safe to say, caveman was pretty fit and strong despite the fact that he never went to a gym and lifted weights. He did however, lift, push, pull, and carry heavy stones, timber, and animals for day to day survival. So too, it is for modern man, the body does not distinguish between the resistance provided by a elastic band, dumbbell, or cable with pulleys and weight stacks. As long as the basic principles of strength training are applied, (isolating a muscle or muscle group, loading the muscle with enough force to bring it to fatigue without causing tissue damage, and allowing for adequate rest and recover) than the muscle will gain strength regardless of the type of resistance.
9. Running is Better Than any other Form of Aerobic Exercise
FALSE – Don't tell that to competitive swimmers
First, let me confess that I love to run and up until recently, ran almost daily. However, now that I am over 60, I had to find new forms of aerobic exercise which would be kinder and gentler to my joints. So, I mix it up between biking (indoors and outdoors, recumbent and upright), brisk walking or hiking, elliptical and stepper and swimming laps. Again, like the caveman weight lifting example, the body (heart and lungs) does not know what is causing an increase in heart rate for 30, 45 or 60 minutes, it only knows that it must respond to allow the body to function under this stress. And, in the process it becomes conditioned to the point that it will work much more efficiently when not under stress with a lower heart and respiratory rate and blood pressure at rest.
With this in mind, those over 50 would be well-advised to engage in low-impact aerobics on a regular basis. For example, if you want to run two to three days per week, do not run two days in a row and consider performing low impact exercise in between. Some examples of low impact aerobics are: walking, treadmill walking, swimming, elliptical trainer, and an exercise or road bike.
10. If You Never Stop Exercising than you won't have to adjust your exercise program as you age.
FALSE - Why Change is Necessary with Age…
For many years, I have repeatedly preached about the value of engaging in an active lifestyle throughout life. It is especially important to be active as one gets older in order to maintain mobility and independence. However, many take this advice to an extreme and refuse to accept the inevitable changes that occur in the body with age. They run, jump, lift and throw like a teenager and often fail to modify their activity or exercise regimen appropriately for their age. Consequently, they suffer from multiple injuries, including muscle tears, tendonitis, bursitis, impingement and advanced osteoarthritis. Keep in mind, everyone ages differently. One person at 60 years of age may be the equivalent of another at 50. However, change with age is inevitable, so be kind to your body…it's the only one you have! It is always prudent to consult your physician and physical therapist for a program designed specifically for your needs.
For more myths about exercise check out this youtube video! https://www.youtube.com/watch?v=yWLVsTWPcY0
For more of our Scranton Times articles check out our Health and Exercise Forum page: https://mackareyphysicaltherapy.com/forum/
NEXT MONDAY – Read Dr. Paul J. Mackarey "Health & Exercise Forum!"
This article is not intended as a substitute for medical treatment. If you have questions related to your medical condition, please contact your family physician. For further inquires related to this topic email: drpmackarey@msn.com
Paul J. Mackarey PT, DHSc, OCS is a Doctor in Health Sciences specializing in orthopaedic and sports physical therapy. Dr. Mackarey is in private practice and is an associate professor of clinical medicine at GCSOM.