Special Feature " Health & Exercise Forum" with GCSOM: Steven Scheinman, MD, GCSOM President and Dean
Steven Scheinman, MD, Geisinger Commonwealth School of Medicine President and Dean, retired at the end of 2021, leaving behind a legacy that will continue in perpetuity. It is often said that success can be measured by the degree to which one makes the world a better place. By that measure, my friend and mentor, Dr. Steven Scheinman, is a very successful man! His numerous contributions to our community will have a long-lasting positive impact, not only on health and wellness, but also on the spirit and pride of its humble citizens.
Dr. Scheinman has demonstrated many of the attributes associated with great leaders and philosophers; openness, with a curiosity and tolerance for diverse cultural and intellectual experiences; conscientiousness, with a gift for dutifulness, diligence, and orderliness; and extraversion, with a tendency to experience positive emotions and being active and sociable.
A summary of some his most impactful accomplishments:
In 2010, the Robert Graham Center, a think tank focused on primary care, analyzed the physician shortage in Pennsylvania. The researchers concluded, "Pressures from a growing, aging, increasingly insured population call on Pennsylvania to address current and growing demand for primary care providers to adequately meet health care needs. Policymakers in Pennsylvania should consider strategies to bolster the primary care pipeline . . ."
Northeastern Pennsylvania was certainly not immune to the problem. In fact, our need for increased access to primary care, which includes mental and behavioral health, reached a boiling point in September of 2012 when our community was shocked by a tragic rash of teen suicides.
That same year, Dr. Steve Scheinman arrived in Scranton to assume leadership of what was then The Commonwealth Medical College (TCMC). Our community was justifiably proud of the school…almost singlehandedly and completely single-mindedly, the people of northeastern Pennsylvania built the school without a major hospital or university partner – something no other community has done. Its purpose, of course, was not just to be a point of pride. It was to ensure the health and wellbeing of our entire region.
When Dr. Scheinman took the reins, TCMC intended to re-populate the region's physician workforce but had few ways beyond admissions policies favorable to local students to incentivize its talented young graduates to remain. Dr. Scheinman took the school's mission as his own and went to work. He guided our medical school to full accreditation – with six commendations, including one for community engagement. He convened a consortium of mental and behavioral health providers, patients and caregivers and founded the Behavioral Health Initiative (BHI), which has gone on to help found the Autism Collaborative and create opportunities for additional graduate medical education in psychiatry in our region.
Undeniably, however, Dr. Scheinman's most important achievement was in presiding over TCMC's integration with Geisinger. Geisinger was the perfect partner for this community's medical college. Both the school and the system are focused on the health of the people in our region. Both focus on serving community and solving the problems that affect our overall wellbeing. Importantly, integration with Geisinger secured the future of medical education in northeastern Pennsylvania. The crowning achievement, however, of becoming Geisinger Commonwealth School of Medicine (GCSOM) is its turbocharged ability to meet the founding goal of the school – to create a physician pipeline right here in our neighborhoods. Together with leaders from Geisinger, in 2018 Dr. Scheinman announced the launch of the Abigail Geisinger Scholars Program.
Dr. Scheinman tells me that area students have always expressed to him a deep desire to come home – and since 2016 more than 30 have done so -- but financial considerations too often derail these plans. Thanks to the Abigail Geisinger Scholars Program, financial considerations are now an incentive, not an obstacle. And because GCSOM maintains admissions policies that favor local students, a great number of Abigail Geisinger Scholars grew up right here in northeastern Pennsylvania.
The program offers tuition-free medical education to GCSOM students in exchange for a promise to return to our region and work as a Geisinger physician. Today, up to 45 students per class are enrolled in the program and are dedicated to specializing in family medicine, internal medicine, medicine/pediatrics, and psychiatry – all areas of primary care devoted to keeping people healthy and out of the hospital. In 2021, the first five students in the program graduated from GCSOM and are now in residency training. In the coming years, we will see hundreds added to that number with each and every one ultimately "coming home."
All of this happened under the leadership of Dr. Steve Scheinman, who earlier this year announced his retirement. On Jan. 3, Dr. Julie Byerley will succeed Dr. Scheinman as the third president and dean of Geisinger Commonwealth School of Medicine. As he leaves us to enjoy a well-deserved retirement, I think the entire community owes him a sincere thank you not only for securing the future of our school, but also for helping our community realize the vision of what having our own medical school would mean -- a guaranteed pipeline of excellently trained physicians to care for us. His legacy will be the wonderful young GCSOM graduates practicing in our region. Here are a few who are already doing so:
· Pat Connors, MD, who practices internal medicine with Prime Med in Scranton.
· Rachel Brutico Gianotti, MD, a Geisinger pediatrician, and her husband, Vince Gianotti, MD, an emergency medicine doctor in Wilkes-Barre.
· Matthew Mullen, MD, a Geisinger cardiac surgeon in Scranton.
· Angela DiBileo Kalinowski, MD, a family medicine doctor with Prime Med in Clarks Summit.
Thank you, Dr. Scheinman!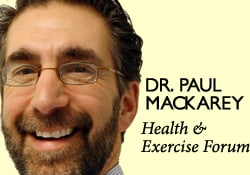 Read Dr. Mackarey's Health & Exercise Forum – every Monday. This article is not intended as a substitute for medical treatment. If you have questions related to your medical condition, please contact your family physician. For further inquires related to this topic email: drpmackarey@msn.com
Paul J. Mackarey PT, DHSc, OCS is a Doctor  in Health Sciences specializing in orthopedic and sports physical therapy. Dr. Mackarey is in private practice and is an associate professor of clinical medicine at GCSOM.
Read all of Dr. Mackarey's articles at: mackareyphysicaltherapy.com/forum