The sunny warm weather is conducive to outdoor sports and activities. Countless adults and more especially students out of school for the summer are participating in tennis, soccer, cross country running, gymnastics, and other sports. These student athletes and others who engage in recreational sports and exercise can be vulnerable to excessive training for all the right and wrong reasons. Parents, family members, coaches, teachers, athletic trainers, friends and health providers must be aware of potential for exercise abuse…as part of the "fitspiration" movement.
It takes only a cursory glance through social media to become aware of the "fitspiration" movement. This catchy term may accompany posts of workout videos, pictures depicting physical activity, or pictures of individuals showing off the muscular bodies they obtained through dedication to rigorous exercise regimens. In a sense, exercise and fitness have become trendy in our society, with more strenuous exercise routines being perceived as more impressive. Cars boast bumper stickers with numbers such as "13.1," "26.2," or even "50," referring to the distances so proudly conquered by runners. When we hear a friend has decided to commit to a rigid training schedule to complete a marathon, we are often in awe of their self-control and motivation, wishing we were that dedicated. But can exercise be a bad thing? The answer is complicated. Exercise is one of the best things we can do for our health. I have heard physicians say that if all the benefits of exercise could be bottled up into a pill; pharmaceutical companies would be fighting for the chance to sell it. However, it can get complicated when one's reasons for exercising stem from a potentially destructive place, rather than a pursuit of health.
Exercise Bulimia/Anorexia Nervosa
Exercise bulimia is a term used to refer to the excessive use of exercise to burn calories or try to keep a low body weight. It is not a medical diagnosis in and of itself, but the notion of using exercise to make up for excessive calorie consumption or maintain an unhealthily low body weight can occur in both anorexia nervosa and bulimia nervosa. Moreover, when excessive exercise occurs in combination with a significantly low body weight, an intense fear of gaining weight, a disturbed body image, undue influence of body shape on self-worth, or a failure to recognize the seriousness of the condition, an individual would meet the criteria for anorexia nervosa.
Anorexia nervosa can cause serious complications in all body systems. Some examples include disrupted functioning of the heart, reduced lung capacity, hormonal imbalance, amenorrhea, (loss of the menstrual period in women), changes in brain structure, and in severe cases, difficulty with memory. The hormonal changes associated with amenorrhea, especially when coupled with extreme exercise, can lead to reduced bone density and can put women at high risk of stress fractures. Stress fractures are breaks in the bone that occur from overuse through large amounts of exercise rather than the traumatic bone breaks we typically think of where an obvious event results in a broken bone.
Warning Signs
Because exercise bulimia can be a part of an eating disorder with potentially life-threatening consequences, it is important to be aware of the warning signs that someone's exercise routine might be part of an eating disorder. Signs of exercise bulimia may include:
Exercising in excessive amounts
Refusing to take days off from exercise
Being overly concerned with tracking how many calories one burns
Becoming defensive if someone suggests the person is exercising too much
Being very anxious if the person is not able to do his or her usual form of exercise
Sticking to a rigid exercise routine at the expense of missing social activities, work or school
Feeling guilty when unable to exercise
Refusing to eat if unable to exercise
Having exercise performance significantly tied to self-worth
Not Clear Cut
While the definition of exercise bulimia implies a voluntary engagement in excessive exercise for weight loss, my experience from being on female track and cross country teams in high school and college has shown me that anorexia nervosa does not always fit the mental picture we may have of someone who refuses to eat at all or even of exercise bulimia where an individual compulsively engages in excessive exercise. During cross country, the mileage we ran likely would have been considered excessive by the average person. Our team often trained 7 days a week with run-length ranging from 5-12 miles. Most runs were at least 7 miles, and some of my teammates had long runs in excess of 12 miles. The men on our team ran even farther. In hindsight, one of my teammates may have met the criteria for a diagnosis of anorexia nervosa. Her weight was significantly below normal, she feared weight gain, did not eat sufficient calories to replenish what she burned on runs, and despite knowing she was thin, did not fully recognize the potential health consequences due to her low weight. However, it was not a clear cut problem. She was not an obvious candidate for an eating disorder because she was not pursuing the excessive exercise; she was simply following her coach's training plan. If she did not exercise to the extent she did, the amount of food she ate would have been considered normal, so seeing her eating habits alone did not trigger any red flags. Finally, cross country runners are known for being lean, often even emaciated; it was a common side effect of the sport often not given a second thought. Thankfully, this runner never fell victim to the dangerous downward spiral that is sometimes seen in patients with anorexia nervosa. However, it is important to be aware of the unsuspecting ways in which an eating disorder can sometimes present.
Treatment
Treatment of eating disorders typically involves a multi-pronged approach with nutritional counseling, psychotherapy, and general medical care playing a role. The nutritional counseling aims to help the patient restore a healthy diet to attain a healthy weight, the psychotherapy aims at getting to the root of the issues that may have contributed to the onset of the eating disorder, and general medical care may be necessary to manage any complications from the eating disorder depending on its seriousness. Educational programs about eating disorders and risk factors have also been shown to be successful in helping to prevent eating disorders.
It can sometimes be a fine line between a healthy passion for exercising and eating well and the start of an eating disorder. Especially in athletes where extreme exercise is part of the sport and putting in extra training is rewarded, it is valuable to be aware of the signs and symptoms of exercise bulimia to help prevent a loved one from crossing over that line. Though serious health consequences are possible in the setting of an eating disorder, treatment and recovery are very possible.
GCSOM Guest Author: Mary Pelkowski, Geisinger Commonwealth School of Medicine MD Class of 2022.
For More Information: www.nationaleatingdisorders.org
Visit your doctor regularly and listen to your body.
Keep moving, eat healthy foods, exercise regularly, and live long and well!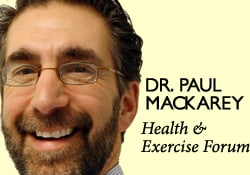 NEXT MONDAY – Read Dr. Paul J. Mackarey "Health & Exercise Forum!"
This article is not intended as a substitute for medical treatment. If you have questions related to your medical condition, please contact your family physician. For further inquires related to this topic email: drpmackarey@msn.com
Paul J. Mackarey PT, DHSc, OCS is a Doctor in Health Sciences specializing in orthopaedic and sports physical therapy. Dr. Mackarey is in private practice and is an associate professor of clinical medicine at GCSOM.
For all of Dr. Paul's articles, check out our exercise forum!
"The woods are lovely, dark, and deep,
But I have promises to keep,
And miles to go before I sleep,
And miles to go before I sleep." Robert Frost
The purpose of this column is to present an alternative to traditional running that will allow training on more interesting and less stressful surfaces such as those used when hiking, mountain biking and horse riding trails in the beautiful woods of Northeast Pennsylvania…"trail running!"
I remember my trail running days with fondness. One day, when the temperatures soared above 90 and my wife pleaded with me to avoid running in the heat (she was wise), as a typical runner, I needed hit the road. As I set out on State Road 348 just on the periphery of Lackawanna State Park in Dalton, the sun was beating down on me. I happened to see a sign that read, "Orchard Trail, Bull Hill Trail, Tree Line Trail." I thought it might be a good idea to find some shade and decided to run on this path normally used for hiking, mountain biking and horseback riding. It turned out to be a great decision. While I was forced to run 25% slower due to the uneven terrain (rocks, tree roots, stumps), I was able to practice "light running" techniques by running with short strides on the balls of my feet. I felt much more refreshed as I avoided the direct sunlight under the cover of the trees.
Furthermore, I enjoyed the up close view of nature as I ran by cool streams and wet mossy rocks. I saw beautiful flowers, rhododendron, and mountain laurel. I observed deer, chipmunks and birds. In my quest to avoid the hot sun, I discovered the beautiful underworld of "trail running" – a growing trend in today's running community. If you, like me, enjoyed pounding the pavement for many years, trail running can help you rediscover why you love to run. It is beautiful, peaceful, natural and unique. It is fun to get in touch with your inner child as you run in the woods and get muddy. Trail running makes running fun…and it's good for your joints!
The trail running community purports that trail running is popular because it satisfies a primal need for man to move through nature, derived from hunter/gatherer days. Others who promote trail running feel the popularity is due to the many advantages it offers. One, trail running prevents impact injuries due to soft surfaces. Two, the training style of running with shorter strides on the ball of the foot, lessens impact. Three, this type of running will develop stronger ankles and trunk core muscles while improving balance, coordination and proprioception from running on uneven surfaces. Lastly, the ability to release copious amounts of endorphins while breathing fresh air instead of roadside fumes is invaluable.
Trail Running Gear
Clothing - Trail running clothes can be the same as those worn for road running except be sure you don't mind if they get dirty and a little torn or snagged.
Shoes – While you can begin trail running in the same shoes you road run in, you will find that a different pair is necessary due to excess dirt and water. Also, if you decide to get into trail running, it is worth purchasing trail shoes which are stronger, more water proof and offer better traction.
Water – a hand held water bottle or a water bottle belt is essential. The belt offers little pouches for money, keys, ID, and power bars for longer runs.
Insect Repellent - a must for mosquitoes and ticks!
Headlamp – necessary for evening runs because it gets very dark in the woods. Also, it gets dark earlier in the woods than on the roads and you need to see the terrain clearly.
Change of Clothes – it is a good idea to have a first-aid kit, towel and change of clothes in your car to change into before you drive home.
Cell Phone – just in case of an emergency.
Tips to Begin Trail Running
Find a Trail – Start by asking around. Hikers, mountain bikers, and horseback riders are a good start. The American Trail Running Association has a website with a free directory of trails in the United States. PA State Parks such as Lackawanna State Park in Dalton, offer many options (www.visitPAparks.com) or download the app AllTrails. Learn the difference between "non technical trails" which are wider with a paved, dirt or gravel base and much easier than "technical trails" which are narrow, rocky, hilly and challenging.
Run Slowly – To be safe, run 25% slower when running a trail in the woods. Use a short stride and land on the ball of your foot. Forget about the pace, feel the dirt under your feet, work on balance and stability. It is a different type of running.
Walk – Don't hesitate to walk when necessary, especially up rocky and slippery hills.
Keep Your Eye on the Trail – Pay careful attention to the terrain by looking 5 to 10 feet ahead.
Anticipate Slippery Rocks and Stumps - Pick your feet up higher and bend your hips and knees more when necessary to avoid tripping over a log. Walk over obstacles if necessary.
Keep a Distance – Don't crowd the trail. You may have to share it with other runners, bikers and hikers. Pass with care.
Be Safe/Be Prepared– Remember the first-aid kit, cell phone, extra clothes and food in the car and make sure someone knows where you plan to run. Run with a friend.
Sources: American Trail Running Association, Trailspace.com
Visit your doctor regularly and listen to your body.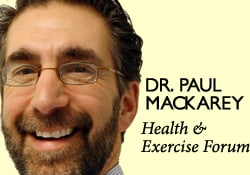 NEXT MONDAY – Read Dr. Paul J. Mackarey "Health & Exercise Forum!"
This article is not intended as a substitute for medical treatment. If you have questions related to your medical condition, please contact your family physician. For further inquires related to this topic email: drpmackarey@msn.com
Paul J. Mackarey PT, DHSc, OCS is a Doctor in Health Sciences specializing in orthopaedic and sports physical therapy. Dr. Mackarey is in private practice and is an associate professor of clinical medicine at GCSOM. For all of Dr. Paul's articles. check out our exercise forum!
Part I of II
People will often ask me, "Is there such a thing as an exercise rut?" They want to know why they do not seem, to be improving with their exercise program?... they exercise 3-4 times a week for 30 to 45 minutes and they feel frustrated and STUCK in a rut. While initially responding favorably to exercise, after 6 -9 months or more, they do not notice progress in weight loss, strength, tone, endurance or daily function.
Here are a few suggestions on how to improve or get more out of a "stale" exercise program.
Step one is to build an exercise program that is grounded in the basics. Next, Step two, which begins after the basics have been mastered, includes the components necessary for a healthy mind, body and spirit connection and translates into functional activities of daily living including work and leisure sports.
STEP ONE: CARDIOVASCULAR, STRENGTH, FLEXIBILITY
Make sure your routine has all three fundamental components of a well-balanced exercise program:
Cardiovascular
Strength
Flexibility Training
While each component offers its own specific benefit, the combination of all three cooperatively provides unique value. Too often, fitness enthusiasts concentrate on the exercises they LIKE or are good at more than the ones they NEED. A well-balanced program includes what you like and need!
In fact, recent studies show that those performing all three components surpassed those performing one or any combination of two of the training types when tested for efficient:
oxygen uptake (VO2 Max)
production of HDL (good cholesterol)
lower body fat percentage
lower blood glucose levels
CARDIOVASCULAR EXERCISE
Cardiovascular exercise is any activity that raises your heart rate and respiratory rate. This type of exercise strengthens the heart muscle and the muscles that assist in breathing. When these muscles are stronger, they in turn work more efficiently to deliver oxygen to your muscles and other parts of the body. Ultimately, these oxygenated muscles can work harder and longer to burn fat during exercise and at rest.
Examples of Cardiovascular Exercises:

Running
Brisk Walking
Swimming
Biking
Rowing
Elliptical Training
Stepper Training
*Most experts recommend at least 30 minutes of sustained cardio, 3-4 days per week. However, recent studies support the notion of performing 10-15 minutes, twice daily, 4 days per week. For those "stuck" in a fitness rut, to advance your program, cardio should be performed 5-6 days per week for 45-60 minutes.
Improving a Cardio Exercise Program:
Alternate Types of Cardio: run walk one day, bike the next, and use the stepper or elliptical a third day.
Alternate Direction: when using equipment that allows changing direction such as the elliptical or treadmill, go forward for 5 -10 minutes then backwards for 3-5 minutes, even if you have to slow the speed down.
Alternate Intensity: interval training for cardio can be invaluable to improve benefits. Interval training includes performing 1, 2 or 3 minute bursts of high intensity cardio followed by a 2 or 3 minute recovery at a slower speed and lower resistance. 15 to 20 minute intervals should always begin with a warm-up and end with a cool down.
STRENGTH TRAINING EXERCISE
Strength training is an activity that provides any type of resistance to muscle contraction to build strength in the muscle. The resistance can be without movement against an immovable object such as pushing against a wall (isometric) or with movement such as lifting up or lowering a weight down against gravity (isotonic/dynamic). There are two types of isotonic muscle contraction; concentric, which involves raising the weight against gravity as the muscle shortens and eccentric which involves lowering a weight against gravity as the muscle lengthens.
A standing biceps curl is an example that incorporates both concentric and eccentric contractions. A progressive strength training program includes all three types of muscle contraction. By using the classic bicep muscle curl these photos will demonstrate all three types of muscle contraction: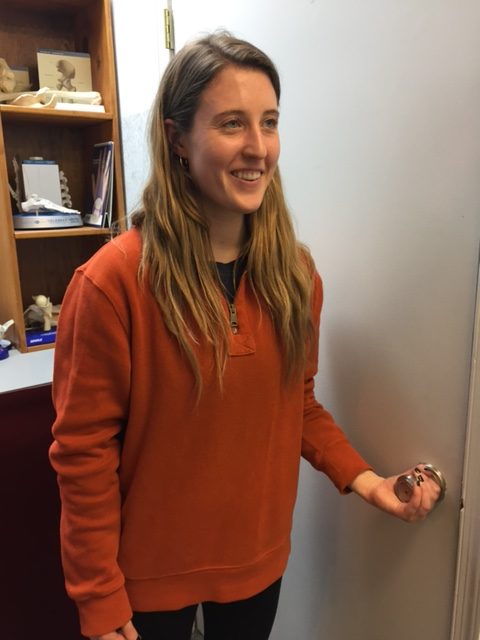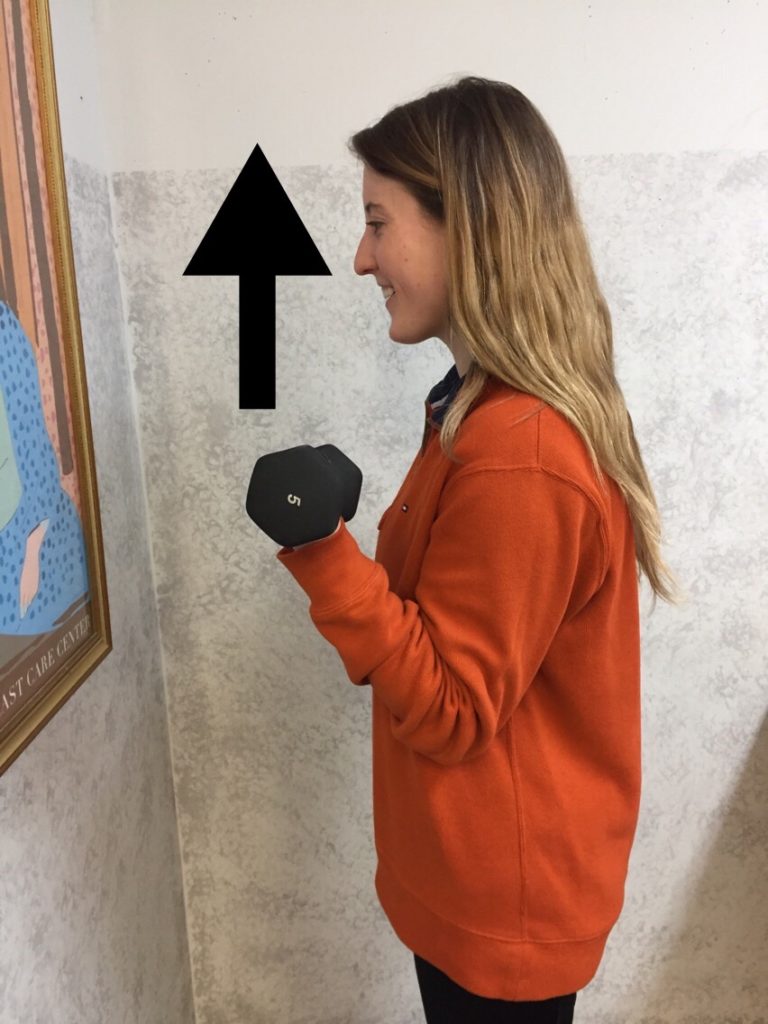 Improving a Strengthening Exercise Program:
Incorporate the use of all three types of muscular contractions in the program. Perform one set of exercises using isometrics as a warm-up followed by a typical weight training program. Then, consider performing one set using only eccentrics (lowering the weight). To do so, a training partner may be necessary to help lift the weight up before it is lowered eccentrically.
Vary the Weight: warm up with lighter weight and gradually progress.
Vary the Speed: one day lift and lower to a 10 count and the next increase the speed to a 2 count – even if requires using a lower weight.
Vary the Types of Resistance. Mix up the routine with exercise bands, dumbbells, weight lifting machines and weighted balls. Also, incorporate using the weight of your body (push ups, planks, lunges).
Vary Body Parts. One day exercise the upper body and the next the lower body. Include core exercises for both.
Sources: National Institutes of Health; American Council on Exercise
Model: Heather Holzman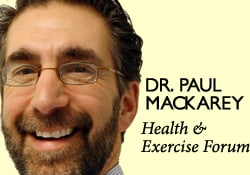 EVERY MONDAY – Read Dr. Paul J. Mackarey "Health & Exercise Forum!" Next Week: Read Stuck in an Exercise Rut…Part II of II!
This article is not intended as a substitute for medical treatment. If you have questions related to your medical condition, please contact your family physician. For further inquires related to this topic email: drpmackarey@msn.com
Paul J. Mackarey PT, DHSc, OCS is a Doctor in Health Sciences specializing in orthopedic and sports physical therapy. Dr. Mackarey is in private practice and is an associate professor of clinical medicine at Geisinger Commonwealth School of Medicine
For all of Dr. Mackarey's articles visit: Mackarey's Health and Exercise Forum!
We are more than one month into the New Year and many people are still talking about their health and fitness goals. As you probably know, losing weight and getting fit are the most popular resolutions, however, for many who have not maintained an active lifestyle in years, it is challenging to know where to begin. Moreover, beginning without a good plan can lead to injury and leave you discouraged. For example, those overweight and de-conditioned should not start a walking program to aggressively. Walking at a fast pace and long distance without gradually weaning into it will most likely lead to problems.
WALKING FOR HEALTH
There is probably nothing more natural to human beings than walking. Ever since Australopithecus, an early hominin (human ancestor) who evolved in Southern and Eastern Africa between 4 and 2 million years ago, that our ancestors took their first steps as committed bipeds. With free hands, humans advanced in hunting, gathering, making tools etc. while modern man uses walking as, not only a form of locomotion, but also as a form of exercise and fitness. It is natural, easy and free...no equipment or fitness club membership required!
BENEFITS OF WALKING
"There's no question that increasing exercise, even moderately, reduces the risks of many diseases, including coronary heart disease, breast and colon cancer, and Type 2 diabetes," said Dr. Jennifer Joyce, MD, professor of family medicine at GCSOM. "Research has even shown that you could gain two hours of life for each hour that you exercise regularly."
According to the American Heart Association, walking as little as 30 minutes a day can provide the following benefits:
Improve blood pressure and blood sugar levels
Help maintain a healthy body weight and lower the risk of obesity
Enhance mental well-being
Reduce the risk of osteoporosis
Improve muscle and joint health
Improve circulation
Improve sleep
PLAN AHEAD
Gear Up – but don't go overboard. Good running shoes with proper arch support and shock absorption are also recommended for walking. Wear weather appropriate dry tech clothing with bright, reflective visible colors. Bring a cell phone in case of emergency…but try not to use it to talk or text because it will ruin the vibe!
Select the Best Path – begin on level surfaces like a "rails to trails." In inclement weather consider walking in a shopping mall.
Warm up. Walk slowly for five to 10 minutes to warm up your muscles and prepare your body for exercise.
Cool down. At the end of your walk, walk slowly for five to 10 minutes to help your muscles cool down.
Stretch. After you cool down, gently stretch your muscles. If you want to stretch before you walk, remember to warm up first.
Trekking Poles. Consider using trekking poles, especially if you have a balance issue or lower back, hip, knee or ankle/foot problems.
Hydrate. If you build up to more than 45 to 60 minutes or if the temperatures soar, bring a water bottle and be sure to hydrate.
SET REALISTIC GOALS
Anything is better than nothing! However, for most healthy adults, the Department of Health and Human Services recommends at least 150 minutes of moderate aerobic activity or 75 minutes of vigorous aerobic activity, or an equivalent combination of moderate and vigorous aerobic activity. The guidelines suggest that you spread out this exercise during the course of a week. Also aim to do strength training exercises of all major muscle groups at least two times a week.
As a general goal, aim for at least 30 minutes of physical activity a day. If you can't set aside that much time, try several short sessions of activity throughout the day (3 ten or 2 fifteen minute sessions). Even small amounts of physical activity are helpful, and accumulated activity throughout the day adds up to provide health benefit.
Remember it's OK to start slowly — especially if you haven't been exercising regularly. You might start with five minutes a day the first week, and then increase your time by five minutes each week until you reach at least 30 minutes.
For even more health benefits, aim for at least 60 minutes of physical activity most days of the week. Once you are ready for a challenge, add hills, increase speed and distance.
TRACK YOUR PROGRESS
Keeping a record of how many steps you take, the distance you walk and how long it takes can help you see where you started from and serve as a source of inspiration. Record these numbers in a walking journal or log them in a spreadsheet or a physical activity app. Another option is to use an electronic device such as a smart watch, pedometer or fitness tracker to calculate steps and distance.
MARK YOUR CALENDAR
Make walking part of your daily routine. Pick a time that works best for you. Some prefer early morning, others lunchtime or after work. Enter it in your smart phone with a reminder and get to it!
FIND A WALKING PARTNER
Studies show that compliance with an exercise program is significantly improved when an exercise buddy is part of the equation. It is hard to let someone down or break plans when you commit to someone. Keep in mind that your exercise buddy can also include your dog!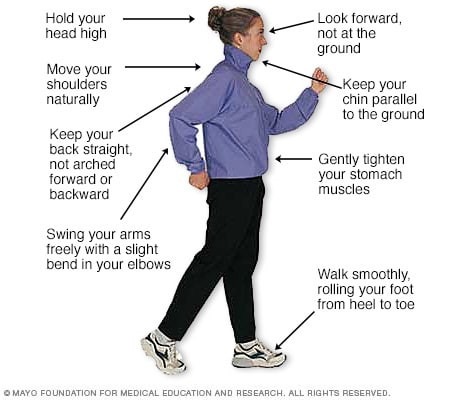 USE EFFICIENT WALKING TECHNIQUE
Like everything, there is a right way of doing something, even walking. For efficiency and safety, walking with proper stride is important. A fitness stride requires good posture and purposeful movements. Ideally, here's how you'll look when you're walking:
Head up, look forward – glance at the ground but don't stare down.
Relax your neck, shoulders and back – avoid a rigid upright posture.
Swing your arms freely with a slight bend in your elbows.
Keep your stomach muscles slightly tightened (work the core) with a straight back.
Walking smoothly - rolling your foot from heel to toe.
Sources : Sapiens.org; WebMD; Mayo Clinic
* Visit your doctor regularly and listen to your body.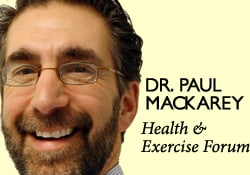 EVERY MONDAY – Read Dr. Paul J. Mackarey "Health & Exercise Forum!"
This article is not intended as a substitute for medical treatment. If you have questions related to your medical condition, please contact your family physician. For further inquires related to this topic email: drpmackarey@msn.com
Paul J. Mackarey PT, DHSc, OCS is a Doctor in Health Sciences specializing in orthopaedic and sports physical therapy. Dr. Mackarey is in private practice and is an associate professor of clinical medicine at Geisinger Commonwealth School of Medicine.
For all of Dr. Mackarey's articles: Visit our Healthcare Forum!
According to the New York Times, there is a shortage and backorder of bicycles this summer due to COVID-19, especially in the cities where public transportation is discouraged. Fortunately, in NEPA, the problem is not so extreme. For those who have a bike, now might be a good time to dust them off and enjoy the many beautiful and well-maintained trails are available at the Countryside Conservancy at Lackawanna State Park, other locations in the Abingtons or the Lackawanna Heritage Valley Authority.
WHY BIKE?
There are many obvious reasons to bike…cardiovascular fitness, burn calories, improve leg strength and others. But, the real question is, "what are the advantages of biking over other forms of exercise?" Glad you asked…
BENEFITS OF BIKING
INEXPENSIVE – while not as cheap as running, biking can be much cheaper than other sports. Starter bikes can be less expensive than high end running shoes.
EASY – most people can learn to ride a bike. Kids begin with training wheels and adult tricycles are available.
FAMILY FUN – something the whole family can enjoy in your neighborhood, at the beach or on one of the trails.
PRACTICAL EXERCISE – it is an opportunity to exercise while traveling to work, store, lunch etc…bike it!
CARDIOVASCULAR FITNESS – good for the heart and all that goes with it: burns calories, lowers blood pressure, lowers LDL, and elevates HDL and boosts the immune system.
LEG STRENGTH – pedaling a bike is a great way to improve leg strength.
CORE STRENGTH – core muscles of the neck, middle and lower back and the associated arm strength will improve while biking in order to maintain your torso on a bike on hills and turns.
IMPROVES BALANCE/COORDINATION/FALLS PREVENTION – riding a bike requires some balance and coordination and therefore will improve balance as a form of falls prevention.
GOOD FOR YOUR JOINTS – bike riding only requires partial weight bearing to the spine and lower body joints so it is more comfortable and gentle to your joints than walking or running. For this reason, it is often recommended to pregnant women suffering from leg or lower back pain as a safe alternative to running.
MENTAL WELLNESS – biking, like all aerobic exercise, is a great source of stress management as it releases endorphins and serotonin which improves mental health. With the added feature of being outdoors in the sunshine and fresh air, biking keeps you smiling!
INJURY MANAGEMENT:
Prevention is the best management of musculoskeletal problems associated with biking. First, many of the problems associated with biking such as knee pain, buttock soreness, and tendonitis can be prevented through proper fitting. Furthermore, it is important that your equipment be in good working order such as tires, chain, brakes and pedals. Next, be sure to maintain a fairly good fitness level in order to bike safely. If you are a beginner, start slowly. Warm up and slowly bike for 10 to 15 minutes and build up over time. Practice the coordination of stopping, starting, shifting and braking. Work on good strength and flexibility of the hamstrings, quadriceps, calves and gluteal muscles. All of these muscles are necessary to generate pedal force. Balance is also important to safety and can be practiced on and off the bike. Be aware that adaptive equipment can modify your bike for added comfort and safety such as soft handlebar tape, seat post and front fork shock absorbers, padded biking shorts, c-out and gel pad saddle seats, and wider tires.
Be careful not to progress too quickly because inactivity to over activity in a short period of time can create problems. Overuse injuries such as tendonitis, can be avoided by cross training. Bike every other day and walk, run or swim on off days. Make sure to take time off to recover after a long ride. Use ice and massage to sore muscles and joints after riding.
Remember, cycling should be fun! Pain from improperly fitted and poorly maintained equipment is preventable. Excessive workouts and training rides should be kept to a minimum and consider cross-training in between.
SAFETY
EQUIPMENT: Helmets are a must! Also, keep your bike in good condition. Road bikes should have mirrors and reflectors. Use hand signals and obey traffic rules. Dress for weather and visibility. Have a first aid and tire patch kit, tire pump and tools. Seat comfort can be improved with gel cushion or split seat.
BE ALERT: for traffic, parked cars, pedestrians loose gravel and cracks in the road.
SOURCES: American Physical Therapy Association
Visit your doctor regularly and listen to your body.
Keep moving, eat healthy foods, and exercise regularly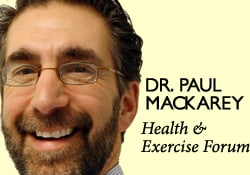 EVERY MONDAY – Read Dr. Paul J. Mackarey "Health & Exercise Forum!" at https://mackareyphysicaltherapy.com/forum/ or visit our website at https://mackareyphysicaltherapy.com/
This article is not intended as a substitute for medical treatment. If you have questions related to your medical condition, please contact your family physician. For further inquires related to this topic email: drpmackarey@msn.com Paul J. Mackarey PT, DHSc, OCS is a Doctor in Health Sciences specializing in orthopaedic and sports physical therapy. Dr. Mackarey is in private practice in downtown Scranton and is an associate professor of clinical medicine at GCSOM.