Human beings were designed to move…walk, run, climb, lift, hunt, and gather. Contemporary man has suffered greatly from a technologically driven inactive and sedentary lifestyle. Moreover, many people continue to work or school from home and studies have found that these people are sitting more with less activity during the day. Inactivity is associated with many health problems; obesity, adult-onset diabetes, high blood pressure to name a few. The problems associated with lack of movement are many.
Constipation
The more you move your body, the more you colon moves!  A regular and consistent exercise and activity regime, results in a more consistent bowel schedule, especially with age. Healthy muscle tone in your abdominal muscles and diaphragm is also key to moving waste through your digestive tract.
Stiff Joints
Osteoarthritis, rheumatoid arthritis and many inflammatory or auto-immune diseases can cause achy, and stiff joints. However, even healthy joints can also stiffen when you don't use them enough. Put them to work so they get tight and cause pain.
Shortness of Breath
All muscles get weak from lack of use, including the muscles that help your lungs expand and contract as you breathe if you don't work them out regularly. The less exercise or activity you do, the more you experience shortness of breath, even during easy daily tasks.
Depression/Moody
Physical problems are not the only complication of inactivity. A lack of movement can also increase feelings of anxiety and depression. Aerobic exercises like walking, biking, swimming, or running, have been proven to stimulate endorphins to boost and steady your mood, and even improve your self-esteem.
Low Energy
Many studies have found that regular movement improves energy. Exercise helps deliver oxygen and nutrients to your tissues. When you sit or are inactive, tissues are not getting the same amount of fuel they need to keep you going.
Slow Metabolism
Movement stimulates your metabolism. Hyperactive people burn more calories…just by fidgeting! Even if you are not hyperactive, the more active you are, the more calories you burn each time you move.
Sleeplessness
One of the first recommendations sleep doctors make to their patients suffering from insomnia is exercise. When you keep a regular exercise routine, you fall asleep faster, and you sleep deeper once you drift off.
Lack of Mental Clarity
Exercise stimulates the release of oxygen carrying blood and chemicals in your brain to improve function. The more blood that gets to your brain, the better you can think, remember, and make decisions.
High Blood Pressure
Sedentary people have a higher incidence of high blood pressure and heart disease. Spending most of your time sitting raises your risk of heart disease. High cholesterol, high blood pressure, obesity, all related to inactivity, are major risk factors for heart issues like coronary artery disease and heart attack.
Pre-Diabetes
Inactivity and high blood glucose levels are closely associated. Regular exercise is essential to keep your blood glucose under control. Stable blood sugar levels helps you avoid type 2 diabetes danger zone.
Low Back Pain
A strong core is can prevent lower back pain. A weak core, associated with inactivity core muscles and lack of use, makes you more vulnerable to lower back pain from tweaking your back muscles during everyday movements like standing or reaching. Pilates, yoga, and other exercises that use stretching are good for building a stronger back.
Increased Appetite
While some people report an increase in appetite with exercise, research shows that aerobic exercise like biking, swimming, walking, and running can actually decrease your appetite because it changes the levels of certain "hunger hormones" in your body.
Frequent Cold and Flu
Studies show the more moderate activity you get, the lower your chance of catching a cold or other germs. When you make exercise a habit, your immune system gets stronger.
Dull or Washed Out Skin
If your skin looks duller than usual, a lack of movement may be to blame. Some studies show that moderate exercise boosts your circulation and your immune system, which helps your skin keep that youthful glow.
Source: WebMD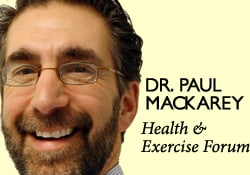 Read "Health & Exercise Forum" – Every Monday Next Week Part II of II: Tips to Select a Good Cervical Pillow For You.  This article is not intended as a substitute for medical treatment. If you have questions related to your medical condition, please contact your family physician. For further inquires related to this topic email: drpmackarey@msn.com.
For all of Dr. Mackarey's articles visit: https://mackareyphysicaltherapy.com
Paul J. Mackarey PT, DHSc, OCS is a Doctor in Health Sciences specializing in orthopaedic and sports physical therapy. Dr. Mackarey is in private practice in downtown Scranton, PA and is an associate professor of clinical medicine at GCSOM.
November is also Native American Heritage Month!
Happy Thanksgiving! Like most of you, I am most thankful for the love and support of my family and friends. I am also very thankful for health and wellness. But this year, the year of the global pandemic which has limited my access to the warm hugs and smiles of those I love, I am more grateful than ever for simple things…the beauty of nature and the great outdoors in NEPA!
With this in mind, I am also grateful to the first environmentalists in the Americas…Native Americans! Long before John Muir and the Sierra Club, Native Americans were stewards of the planet. Native Americans feel that everything in nature has a soul… living creatures, trees, mountains, rocks and even water! Therefore, they believe that all of nature must be treated with respect and honor. Today, when being outdoors in nature is more important than ever, we are the beneficiaries of their stewardship. Now it is our turn to enjoy, respect and protect nature for future generations!
GET THE HECK OUTSIDE!
Research shows that spending time outdoors has many positive effects on your health. With a little imagination, one can find many year round activity options in Northeastern Pennsylvania. While swimming, boating, kayaking, biking and golfing may be winding down, consider other options this winter. With proper equipment and clothing, walking, running, hiking, fat-tire biking, snowshoeing, cross-country and downhill skiing can be enjoyed. Studies show that even less vigorous activities such as barbequing or reading a good book on the porch are healthier than being indoors... so bundle up next to a good fire pit or outdoor propane heater and get outdoors!
Even before the pandemic, it was reported that Americans spend 90% of their lives indoors and that number increases with age. Worse yet, for some, venturing outdoors is considered risky behavior with fear of the sun, heat, ticks, wind, cold, mosquitoes and other creatures of God. Well, the truth of the matter is the risk of being one with nature is far less than the ill effects of a life stuck indoors. Please consider the following benefits of spending time outdoors.
Nature's Vitamin D – Current research suggests that Vitamin D (The Sunshine Vitamin), may offer significant disease prevention and healing powers for osteoporosis, some forms of cancer and heart disease. Of all the methods of getting an adequate amount of Vitamin D, none is more fun than spending time outdoors in the sunlight. It seems that health concerns of ultraviolet light, sun burn and skin cancer have created an overreaction to the point of Vitamin D deficiency in many. Balance and common sense go a long way. One can attain normal levels of Vitamin D by being outdoors in the sun and exposing their arms and legs for 10 -15 minutes a few times per week. Additional time in the sun warrants sunscreen and Vitamin D supplements can be used if necessary.
Increase Activity Level – While exercising indoors in a gym is valuable, research shows that time spent indoors is associated with being sedentary and being sedentary is associated with obesity, especially in children. Some studies show that children in the United States spend an average of 6 ½ hours per day with electronic devices such as computers, video games and television. It is also reported that a child's activity level more than doubles when they are outdoors. So, get out of the office, house and gym as often as possible. Consider weight training at the gym and doing cardio by walking, biking or running outdoors.
Improved Mental Health – It is well documented that light affects mood. So, unless you live in a glass house or a light box, getting outdoors is important to your mental health. Furthermore, studies show that exercising outdoors in the presence of nature, even for as little as 5- 10 minutes has additional mental health benefits. For those less active, read or listen to music outdoors next to a fire.
Improved Concentration – Richard Louv, author of the book, "Last Child in the Woods," coined the term, nature-deficit disorder." This term is supported by research that found children with ADHD focus better when outdoors. Furthermore, it was discovered that these children scored higher on concentration tests following a walk in the park than they did after a walk in their residential neighborhoods or downtown areas, showing the benefit of the "green outdoors."
Improved Health and Healing – Researchers at the University of Pittsburgh found that patients recovering from surgery recovered faster with less pain and shorter hospital stays when they were exposed to natural light. Next time you're recovering from an illness, discuss this with your physician.
Improved Breathing – In general, breathing fresh air is good for you. Some exceptions might be those with severe allergy problems when the pollen count is high. In spite of this, it may be better to take allergy medicine and enjoy the benefits of being outdoors than to be stuck inside. Many pulmonologists believe people with pulmonary problems would benefit from outdoor activities such as a 10-15 minute walk because they are prone to osteoporosis and Vitamin D deficiency. Local pulmonologist, Dr. Gregory Cali, DO, agrees and also adds that studies do not show that high humidity is dangerous for respiratory patients but it may be uncomfortable. In cold temperatures, those with pulmonary problems must avoid directly breathing cold air by covering up their mouths when walking outdoors. Overall, the benefits far outweigh the risks.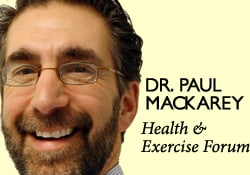 Read "Health & Exercise Forum" – Every Monday.
OR access ALL of Dr. Mackarey's content at https://mackareyphysicaltherapy.com/forum/
This article is not intended as a substitute for medical treatment. If you have questions related to your medical condition, please contact your family physician. For further inquires related to this topic email: drpmackarey@msn.com
Paul J. Mackarey PT, DHSc, OCS is a Doctor in Health Sciences specializing in orthopaedic and sports physical therapy. Dr. Mackarey is in private practice and is an associate professor of clinical medicine at GCSOM.
For most, walking can be the perfect pandemic activity. Walking is socially distanced, yet not isolated, while offering many health benefits.
Walking changes the world. Recently, when protesters demanding racial justice marched on Washington, they followed the footsteps of defiant walkers throughout history. From Mahatma Gandhi and the Indian independence movement to Martin Luther King, Jr., and the civil rights movement, walking and protest have been interrelated.
Walking is about more than walking, and always has been. Walking soothes. Walking inspires and sharpens the mind. The pandemic has taken away much... not only lives, livelihoods, but our need to feel free too. While there is much we can't do, WE CAN WALK!
It might be said that with the right mindset, every walk is a pilgrimage. Many a breakthrough has been stumbled upon while putting one foot in front of the other. We run from problems. We walk toward solutions. While working on A Christmas Carol, Charles Dickens would walk 15 or 20 miles through the back streets of London, turning over the plot in his mind as the city slept. Beethoven found inspiration while ambling in the verdant Wienerwald outside Vienna.
Recent studies suggest that walking stimulates our creative mind is at its most creative at three miles per hour, the speed of a moderately paced stroll. Stanford University researchers divided participants into two groups: walkers and sitters. They then administered a test designed to measure creativity. They found that creative thinking was "consistently and significantly" higher for the walkers than the sitters. It didn't take a lot of walking to boost creativity, either—anywhere from 5 to 16 minutes.
Studies have also shown that people who walk regularly are healthier and live longer than those who don't. Surprisingly, you don't have to walk very fast or far to enjoy this benefit. One recent study, published in JAMA Internal Medicine, put the 10,000-step myth to rest. It is an arbitrary number. People—older adults in particular—accrue health benefits by taking only a few thousand steps each day, and at a leisurely pace.
Benefits of Walking
In addition to stimulating creativity and reducing stress, walking has many benefits. "There's no question that increasing exercise, even moderately, reduces the risks of many diseases, including coronary heart disease, breast and colon cancer, and Type 2 diabetes," said Dr. Jennifer Joyce, MD, professor of family medicine at GCSOM. "Research has even shown that you could gain two hours of life for each hour that you exercise regularly."
According to the American Heart Association, walking as little as 30 minutes a day can provide the following benefits:
Improve blood pressure and blood sugar levels
Help maintain a healthy body weight and lower the risk of obesity
Reduce the risk of osteoporosis
Enhance mental well-being
Stimulates creative thinking
Like everything, there is a right way of doing something, even walking. For efficiency and safety, walking with proper stride is important. A fitness stride requires good posture and purposeful movements. Ideally, here's how you'll look when you're walking:
Head up, look forward – glance at the ground but don't stare down.
Relax your neck, shoulders and back – avoid a rigid upright posture.
Swing your arms freely with a slight bend in your elbows.
Keep your stomach muscles slightly tightened (work the core) with a straight back.
Walking smoothly - rolling your foot from heel to toe.
Plan Ahead
Gear Up – but don't go overboard. Good running shoes with proper arch support and shock absorption. Wear weather appropriate dry tech clothing with bright, reflective visible colors.
Select the Best Path – begin on level surfaces like a "rails to trails." In inclement weather consider walking in a shopping mall.
Warm up. Walk slowly for five to 10 minutes to warm up your muscles and prepare your body for exercise.
Cool down. At the end of your walk, walk slowly for five to 10 minutes to help your muscles cool down.
Stretch. After you cool down, gently stretch your muscles. If you want to stretch before you walk, remember to warm up first.
Set Realistic Goals
Anything is better than nothing! However, for most healthy adults, the Department of Health and Human Services recommends at least 150 minutes of moderate aerobic activity or 75 minutes of vigorous aerobic activity, or an equivalent combination of moderate and vigorous aerobic activity. The guidelines suggest that you spread out this exercise during the course of a week. Also aim to do strength training exercises of all major muscle groups at least two times a week.
As a general goal, aim for at least 30 minutes of physical activity a day. If you can't set aside that much time, try several short sessions of activity throughout the day. Even small amounts of physical activity are helpful, and accumulated activity throughout the day adds up to provide health benefits.
Remember it's OK to start slowly — especially if you haven't been exercising regularly. You might start with five minutes a day the first week, and then increase your time by five minutes each week until you reach at least 30 minutes.
For even more health benefits, aim for at least 60 minutes of physical activity most days of the week.
Track Your Progress
Keeping a record of how many steps you take, the distance you walk and how long it takes can help you see where you started from and serve as a source of inspiration. Record these numbers in a walking journal or log them in a spreadsheet or a physical activity app. Another option is to use an electronic device such as a pedometer or fitness tracker to calculate steps and distance.
Sources: National Geographic; Mayo Clinic
Visit your doctor regularly and listen to your body.
Keep moving, eat healthy foods, exercise regularly, and live long and well!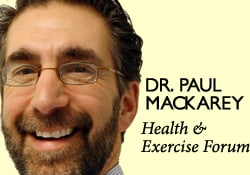 NEXT MONDAY – Read Dr. Paul J. Mackarey "Health & Exercise Forum!"  
Read all of Dr. Mackarey's articles at: https://mackareyphysicaltherapy.com/forum/
This article is not intended as a substitute for medical treatment. If you have questions related to your medical condition, please contact your family physician. For further inquires related to this topic email: drpmackarey@msn.com
Paul J. Mackarey PT, DHSc, OCS is a Doctor in Health Sciences specializing in orthopaedic and sports physical therapy. Dr. Mackarey is in private practice and is an associate professor of clinical medicine at GCSOM.