There is a very good chance that the cold temps and snow will return soon! Winter in NEPA can be the perfect opportunity to try something new. For example, for those who enjoy running or walking you can continue to do so in the winter, with a few adjustments. Equipment, such as treaded sneakers, allows you to run or walk in the snow. Snow shoes are a great way to hike and walk in the snow while cross country skiing simulates running in the snow. But, in the last few years, another outdoor activity has become a winter sport; mountain biking in the snow has become popular.
Many mountain biking enthusiasts in NEPA enjoy 7-8 months of trail riding at our beautiful state parks. Now, with a few modifications, mountain bikers can continue year round. In fact, the adventure in the snow may be an exciting new experience. If winter biking is not your thing, maybe winter walking, running, snow shoeing or cross-country skiing will suit you better.
The physical and psychological benefits of outdoor activities are many: each season brings its own unique beauty, and winter is no different. Most will not have to abandon outdoor activities, but some adjustments in equipment, clothing, and food are necessary for each season and the temperature changes that it brings.
Mountain Biking in the Snow
While recommended, it is not necessary to purchase a bike specifically for mountain biking in the snow. With a few simple modifications and adjustments, you can prepare a regular mountain bike for winter use.
Modify The Bike Shocks
Shock Pressure Adjustments for Temperature Changes
In addition to rocks and stumps, winter biking offers the challenges of snow banks and ice chunks. The air pressure in your shock system will be affected by temperature. Additional air pressure will be required to improve shock absorption and in extreme cases, using less viscous oil will be required.
Modify The Tires
Pressure - lower the air pressure in the tires 5-10 psi lower than normally used in the summer to improve traction.
Treads – Just as with winter car tires, a larger tire with more volume and large, widely space knobs will improve traction. Some special winter tires offer studs for improved performance on the ice.
Brakes
Disc Brakes – that are self-cleaning and mounted away from the snow are best for winter biking. However, brakes should be examined and cleaned intermittently for snow and ice accumulation.
Pedals
Platform Pedals – allow the rider to quickly plant the foot for balance when sliding.
Clothing
It is important to layer clothing. Use DryTech or UnderArmor type materials (headgear, gloves, shirts and pants) to allow sweat to breath away from the skin to the next layer of clothing. Use a facemask to cover your mouth and nose to prevent frost bite and warm air before it enters the lungs. Chemical hand and toe warmers are great. Try winter running or walking shoes as described below.
Walking or Running in the Snow
There are running shoes specifically designed for use in wet, cold and sloppy winter conditions. These "winterized" running shoes, which can also be used for walking, offer waterproofing, sealed seams, gaiter collars to keep out snow and slop, slip resistant fabric, anti-roll stability features, anti-microbal material and aggressive tread patterns for traction on slippery surfaces. Some shoe recommendations for both winter walkers and runners include:
. Some shoe recommendations for winter runners and walkers from The Runner's World Magazine include:
Salomon Sense Ride 3 GTX: $160.00
Inov-8 TerraUltra G 270: $160.00
Saucony Peregrine ICE+: $149.95
Merrell Nova 2/Antora 2: $109.99
Altra King MT 2: $99.81
For winter walkers, walking or trekking poles will improve balance and safety when briskly walking in winter conditions. I am a strong proponent of using these tools. They are lightweight, adjustable, and collapsible. Some examples are: Black DiamondR Trail Explorer 3 Trekking Poles - $59.99 andMountainsmithR FX Lite Trekking Poles - $35.09. For an inexpensive alternative, an old pair of ski poles will work just fine.
Snow Shoeing and Cross-Country Skiing
These activities should also be considered as a viable option for the winter walker and runner. These are great cross-training alternatives with tremendous aerobic benefits.
Snowshoes work by distributing your weight over a larger surface area so your foot does not sink completely into the snow. Commonly used by fur traders, trappers and forest rangers, snow shoeing has become very popular among many outdoor exercise enthusiasts. It is relatively safe and inexpensive. Some snowshoes include the Tubbs Flex TRK - $169. (REI) and Redfeather Hike - $149.00 (Cabelas).Boots and poles are also required, but ski or trekking poles along with hiking boots or winter running shoes can be used.
Cross country skiing has also gained tremendous popularity among winter outdoor exercise enthusiasts. It is a cross between running and skiing in which the participant propels through a snow-covered trail by pushing and gliding with a running or fast-walking motion. Some examples of equipment packages that include boots, pole, bindings and skis are Alpina Sports Tour – no wax for $229.00 and Rossignol XT from LL Bean at $224.00.
Many of the area's state parks, such as Lackawanna and Promised Land, offer wonderful trails for winter walking, hiking, running, snow shoeing, cross-country skiing and biking.
For the more casual walker in need of protection from the snow and ice, it may be treacherous just to walk the dog or go to the bank, post-office or grocery store. Consider traction devices that easily slip on and off your shoes or boots such as StabilicersR (cleats-type device) or YaktraxR (chain-type device).
Visit your doctor regularly and listen to your body.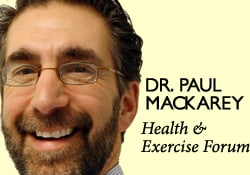 NEXT MONDAY – Read Dr. Paul J. Mackarey "Health & Exercise Forum" every Monday.
This article is not intended as a substitute for medical treatment. If you have questions related to your medical condition, please contact your family physician. For further inquires related to this topic email: drpmackarey@msn.com
Paul J. Mackarey PT, DHSc, OCS is a Doctor in Health Sciences specializing in orthopaedic and sports physical therapy. Dr. Mackarey is in private practice and is an associate professor of clinical medicine at GCSOM.
For all of Dr. Mackarey's articles: visit our healthcare forum