Dance Like Nobody's Watching!
"Dance like nobody's watching!" This is one of my favorite quotes from Mitch Albom's book, Tuesdays With Mori, because it represents interesting facts about human behavior. One, of course, is the ability to be comfortable in your own skin. The other, maybe less obvious benefit is that challenging your balance through dancing, even if it's not pretty, is very effective in maintaining or improving quality of life for those with challenges in gait and balance, as found in Parkinson's disease (PD). In fact, "Dance for PDR", a new and popular treatment for PD, has recently been validated in the scientific literature as a valuable treatment tool for those with PD.
Research published in the Journal of Neural Transmission, shows that dancing is shown to help people with PD improve their ability to walk and enhances their quality of life. The program was applicable to those at various stages of PD, including those using walkers. Moreover, the results found that, in addition to physical improvements, participants also had psychological and social benefits through camaraderie, joy of movement and less isolation.
Participants, none of whom had ever engaged in a dance class before, performed a structured dance program for 16 sessions over 8 weeks. Each class was 75 minutes long with seated warm-up activities 50% of the time. Results showed: 10%improvement in overall movement, 26% improvement in walking and 18% improvement in tremor.
Parkinson's disease is a chronic, degenerative disease that leads to slowness of movement, balance disorders, tremors, and difficulty walking. PD results from the loss of dopamine-producing nerve cells in the brain. Dopamine is critical to stimulate the nerves of the muscular system in the body. PD affects approximately 1.5 million people in the USA with 60,000 new cases each year according to the National Parkinson Foundation. Most people know someone affected by PD. PD typically affects those over 65 years of age and only 15% are under 50.
While there is no current cure for PD, exercise is well documented to relieve some of its symptoms. Specifically, exercise can help keep muscles strong, joints mobile, and tissues flexible. Exercise will not stop PD from progressing, but it will improve balance, enhance walking ability, reduce muscle weakness, and minimize joint stiffness. In 2007, a study published in the Journal of Neuroscience revealed that exercise may benefit individuals with PD because exercise encourages the remaining dopamine cells to work harder to produce more dopamine. Also, the researchers discovered that exercise decreases the rate at which dopamine is removed from the brain.
Exercise to improve strength, balance, and flexibility can be performed independently at home or supervised at a rehab or exercise facility. Supervised exercise can include physical therapy, recreational therapy, water therapy, yoga, and Tai Chi. Physical therapy can improve walking ability, enhance balance, reduce fatigue, increase strength, promote flexibility and minimize pain. Physical therapy uses movement techniques and strategies as well as various pieces of equipment to enhance an individual's level of independence and improve his quality of life. PT can also incorporate leisure activities (e.g. golfing and ballroom dancing) to reduce the symptoms and associated limitations of PD. Tai Chi, a total mind and body workout, is a series of individual dance-like movements linked together in a continuous flowing sequence. Particular benefits for people with PD include reduced stress, increased energy, improved concentration and focus, better circulation and muscle tone, and significant improvements in balance.
According to Dance for PDR,their programoffers internationally acclaimed dance classes for people with Parkinson's disease in Brooklyn, New York and, through a network of partners and associates, in more than 120 other communities and 16 countries. In Dance for PD classes, participants are empowered to explore movement and music in ways that are refreshing, enjoyable, stimulating and creative. For more information visit: www.danceforpd.org
So, if you like to dance, "keep on dancing!" If you don't dance and notice some changes in balance and coordination, or if you have PD…it's a good time to start!  "Dance like nobody's watching!"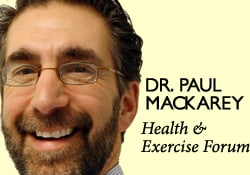 NEXT MONDAY – Read Dr. Paul J. Mackarey "Health & Exercise Forum!"
This article is not intended as a substitute for medical treatment. If you have questions related to your medical condition, please contact your family physician. For further inquires related to this topic email: drpmackarey@msn.com. Paul J. Mackarey PT, DHSc, OCS is a Doctor in Health Sciences specializing in orthopaedic and sports physical therapy. Dr. Mackarey is in private practice and is an associate professor of clinical medicine at GCSOM.
For all of Dr. Mackarey's articles visit www.mackareyphysicaltherapy.com/forum