HOW TO PREPARE FOR YOUR VISIT TO YOUR PHYSICIAN
Research shows, those who prepare in advance for their physician visits, have more satisfaction than those who just show up for their appointment. Moreover, for patients seeing multiple physicians, such as specialists, often communication is poor and your participation in the process can be invaluable. There are things you can do to prepare for your physician visits:
1. Make a Checklist:

Fill out a detailed checklist before the visit that includes health issues, concerns and questions. This is especially important if you are seeing more than one physician specialists since your last visit and have had a change in health or prescribed medication.

Example: when visiting your primary care physician for the first time in several months you notice that you have seen two specialists in between. First, you saw a cardiologist for high blood pressure and were put on a blood pressure medication and a blood thinner. Second, you went to an orthopedist for knee pain from osteoarthritis and were prescribed an anti-inflammatory drug for pain and inflammation. With proper preparation, such as keeping a hand-written or electronic file medical log or journal, sharing this information with your family physician may be critical. The anti-inflammatory drug may not be safe when taken with the blood thinner and if communication between three physicians did not take place, it is important for you to assist in the process.

List any changes in your body (weight loss), medications (daily aspirin prescribed by cardiac specialist) or daily function (unable to walk 1 block without shortness of breath) since your last visit.
2. Insurance Information:

Don't forget to bring your health insurance cards, both primary and secondary.
3. Medication List:

List: type of medication, date prescribed, who prescribed it, and dosage. Be sure to include over-the-counter drugs such as aspirin, multivitamins and herbals.

4. Pharmacy Information:

The name, address and phone number of your preferred pharmacy will be necessary if medications are prescribed.

5. Symptom List:

Make a list of symptoms that you want to tell your physician. For example; weight loss, shortness of breath, weakness or loss of voice, or difficulty sleeping.

6. Be Honest:

It is important that your physician has complete and accurate information. For example, if you are having anxiety and you are drinking alcohol regularly, it can have serious implications if an anti-anxiety medication is prescribed.

Don't be embarrassed…chances are you are not the only one. For example, if you are using a drug prescribed by another physician for erectile dysfunction, it is important for to share this with your family physician as it may impact the use of other treatments or drugs and may be related to new symptoms or problems you are experiencing.

7. Keep a Medical Journal:

A medical journal can be kept in a written log or electronic file. It should be chronological and include dates of medical visits, including specialists, tests, medications, vaccinations, etc. After each visit with a medical professional, enter the information before your forget the details. Also, include health insurance and supplemental insurance information.

8. Bring a Family Member or Friend:

A friend or family member can serve as your eyes and ears to remember to ask questions and follow orders that you might forget. They can help you take notes and organize papers and instructions.

If you do not speak English fluently, bring a family member, friend or interpreter to assist you. If you do not have an interpreter, you can usually prearrange for one in advance with your doctor's office.

9. Bring Your Glasses and Hearing Aid:

If you require glasses and a hearing aid, be sure to wear them for your visit. It will help insure better communication with your doctor.

10. Silence Your Cell Phone:

This simple courtesy will go a long way to improve the quality of the visit for you and others.
Remember, your health is too important to rely on memory for accuracy…so be a proactive participant. With technology, it has never been easier to keep a medical journal to improve accuracy and communication. There are several "Apps" such as "mymedicalapp.com" that allow you to do this on your phone, tablet or lap-top computer and offer privacy code features.
SOURCES: www.webmd.com; National Institutes of Health – National Institute on Aging "A Guide for Older People - Talking With Your Doctor"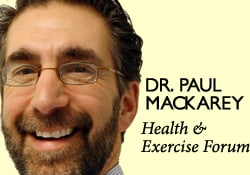 This article is not intended as a substitute for medical treatment. If you have questions related to your medical condition, please contact your family physician.
For further inquires related to this topic email: drpmackarey@msn.com
Paul J. Mackarey PT, DHSc, OCS is a Doctor in Health Sciences specializing in orthopaedic and sports physical therapy. Dr. Mackarey is in private practice and is an associate professor of clinical medicine at GCSOM.
For all of Dr. Mackarey's articles visit: http://www.mackareyphysicaltherapy.com/forum