Holiday Spirit Requires a Healthy Mind, Body, Spirit!
Happy Holidays! It is at this time of year that we celebrate life with great hope and faith. People of many faiths take time to reflect, respect, and resolve. Christians celebrate Christmas, the miraculous birth of Christ, the Son of God, and the Messiah. Jews celebrate Chanukah, the miraculous festival of lights, when one night's oil provided enough light and safety for 8 nights. Both major faiths promote healthy lifestyles for the mind, body and spirit. These faiths are grounded in hope, faith, love and peace. It is no surprise that studies repeatedly demonstrate that people of faith outlive those without!
With this in mind, I purport, that to be truly healthy, one must have faith because complete health is multidimensional. Socrates preached this message to his students thousands of years before Christ. One must have a healthy mind, which requires intellectual stimulation with attainable goals related to education and intellect. One must have a healthy body by eating well, engaging in physical activity and have attainable goals related to his/her body. Likewise, one must have a healthy spirit with faith, hope, prayer and meditation, comrades and counsel, and set attainable spiritual goals.
5 Health Benefits of Religion and Spirituality
How being religious or spiritual has been shown to benefit your mind, body and spirit…
Healthy Blood Pressure
High blood pressure (hypertension) can lead to heart disease and stroke, which are the leading causes of death in the United States, according to the Centers of Disease Control (CDC). It affects 1 in every 3 adults and only half of these people have their blood pressure under control. Well, religion and spiritually may help …
The health benefits of religion or spirituality are well documented. One study conducted at Duke University Medical Center on 4,000 subjects, older adults who described themselves as religiously active were 40% less likely to have high blood pressure when compared to those less active. Moreover, they were surprised to find that those who described themselves as spiritual rather than religious also were less likely to develop high blood pressure.
Greater Sense of Satisfaction
Research also indicates that religious people are more satisfied with their lives than those without faith. A sociology study determined that high satisfaction among church goers may be due to the strong social bonds that are developed within a religious congregation. Regular church attendees see the same people weekly and often more often, when participating in rewarding and gratifying church-related volunteer work.
Greater Tolerance for Adversity
In an impressive study published in the Journal of the American Medical Association, researchers interviewed 345 late-stage cancer patients to assess their spirituality as it related to their illness. 88% stated that they were religious as it related to their coping mechanisms. It was determined that those using religion for coping demonstrated a 7.4% rate of resuscitation as compared to 1.8% for those not using religion as a coping mechanism.
Stronger Immune System
According to a Duke University study of 1,718 older adult participants, those described as "highly spiritual" were 50% less likely to have high levels of anti-inflammatory proteins that weaken the immune system and have been linked to some cancers, viral infections and autoimmune diseases. The outcome was similar for those who attend religious services at least once a week.
Greater Longevity
Those who attend religious services more than once per week are found to live and additional 7 years when compared to those who never attend services. Again, researchers feel that the social benefits of a belonging to a strong religious community may be a large part of the associated longevity. Additionally, the lifestyle of religious people is often healthier: members of these communities rarely engage in risky and unhealthy behaviors such as smoking, excessive drinking, indiscriminate, unprotected sex, etc.
Visit your doctor regularly and listen to your body.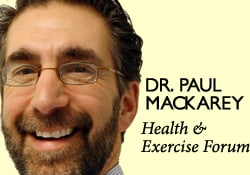 NEXT MONDAY – Read Dr. Paul J. Mackarey "Health & Exercise Forum!"
This article is not intended as a substitute for medical treatment. If you have questions related to your medical condition, please contact your family physician. For further inquires related to this topic email: drpmackarey@msn.com
Paul J. Mackarey PT, DHSc, OCS is a Doctor in Health Sciences specializing in orthopaedic and sports physical therapy. Dr. Mackarey is in private practice and is an associate professor of clinical medicine at GCSOM.
For all of Dr. Mackarey's articles, visit our "Health Care Forum"